We've made it through another week, which means it's time for a reward. From accidental art on the iPad to handsomely restored vintage speakers, we have plenty of beautiful things for you to ogle at this week.
And they look even better in our new and improved format.
---
Camera-lovers aren't the only ones who get to fawn over retro design nowadays. German company Soundpauli has made a racket of taking vintage speakers and restoring them to their former glory. They're stunning.
G/O Media may get a commission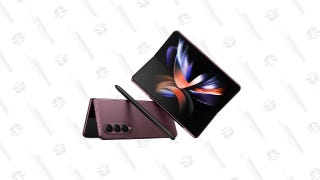 Save Up to $300
Galaxy Z Fold4
---
When you check your email, when you play Temple Run, when you're selecting a song to listen to, you're making art. You just don't know it. In a series called Invisible Hieroglyphics, artists Andre Woolery and Victor AbiJaoudi highlight those hidden masterpieces you don't even mean to make.
---
A glassblower's weapon of choice has been a simple blowpipe over 2,000 years now. It's a tried and true device. But that doesn't mean there's no room to jazz it up a little, and that's exactly what "Strange Symphony" does.
---
If Braun's ET66 calculator looks oddly familiar, like you've used it before, you probably have. Originally released in 1987, the ET66 shed the sliding switches of its predecessors, the ET22 released in 1976 and the ET44 released in 1978, and became an icon of product design. So much so that the iPhone's original…
---
Watching carpenter Andy Stewart wield chisels and mallets and planks in the service of boats will make you ache with sadness for the lost craft. But then you hear Stewart talk, and you realize that he's not some sap that history left behind—he's a genius.
---
These days, most of us expect the things we buy online to arrive within a day or two. After all, why does ecommerce exist, if not to deliver a horsehead mask to my doorstep within 24 hours?
---
Recently, Gizmodo had a chance to go out to the Transformers HQ at Hasbro's home office outside of Providence, Rhode Island. We got to see how the classic toys are designed from the ground up, as well as the workshop where early prototypes for all of Hasbro's toys are put together. It was a pretty great time.
---
A crop of newly reimagined government forms beautify and clarify the documents that define us (as far as the government is concerned, at least). But should we be thinking harder about how these forms function, alongside how they look?
---
A quality grinder is an essential tool in making good coffee or espresso, but they're often known more for their utility than their beauty. The HG-One though, is a different beast. Its sleek beauty will make you forget how much cranking is involved.
---
If ever there was something bubbling out of the primordial ooze it's these little pools of light. There's something that's just gloopy and compelling about them. This is KIHOU, a series produced by tangent, a London/Tokyo design studio.