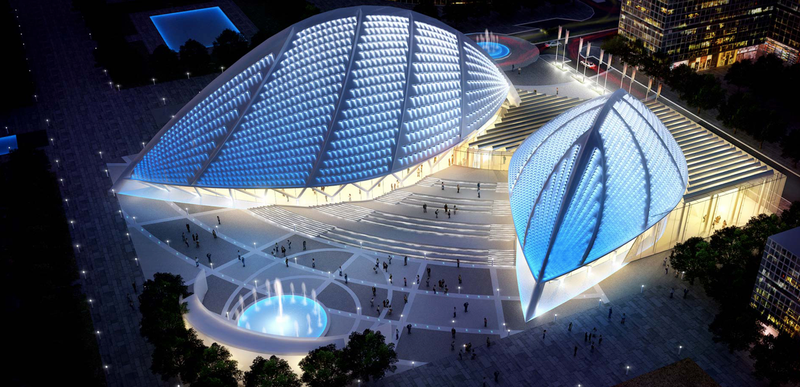 Perhaps you're whittling the last couple of hours away at your desk, trying to look busy until quitting time. So while you're trying to make it to the three day weekend, here are some of the best design posts we showed you this week.
---
Dominic Wilcox has a knack for the absurd. He's designed gold-plated luxury skipping stones, anti-theft bike stickers, and a post-it note tattoo for hand-written notes. His latest design, though, is both absurd and incredibly useful: a conversion system that makes it possible to screw old sound systems into light…
---
"It is easy to invent a flying machine," said the 19th century aviation engineer Otto Lilienthal, "[and] more difficult to build one; to make it fly is everything." The challenge of air (and later, space) travel began not with building aircraft, but with building a realistic simulation machine in which to test those…
---
ICFF—or the International Contemporary Furniture Fair—is one of the biggest furniture shows this side of Milan. And like its Italian rival, ICFF is closely watched by critics, who see it as a gauge of broader cultural trends. For example, the glitzy 2000s correlated with escapism from political turmoil and war.
---
When Microsoft introduced Kinect three years ago, it brought pervasive computing into many homes for the very first time. Today, with the announcement of Xbox One, it's poised to pull millions of Americans into the era of the truly connected home. And we're all going to look damn good getting there.
---
This is awesome. Herman Miller has announced that it will start making the iconic Eames Molded Chair in fiberglass... again. The fiberglass chairs were discontinued from production in 1989 and ever since then, the iconic chairs that decorate modern houses have been made with recyclable polypropylene. But now we're…
---
Beer is a staple of Americana, so it's only suitable that the buildings where it's brewed are often classic examples of American architecture. Even though some breweries eventually fall into disrepair, either because the brewer shuts down or because it moves, many of those have been given second lives as loft… Read…
---
Rendering Redux is a weekly examination of architectural rendering practices on Architizer. While many architects evaluate these images based on sheer effect, we take a more humorous approach, documenting the inconsistencies and incongruous scale figures that populate the architectural imagination. Each week, we take…