Last year, all the most exciting mobile phones were dirt cheap. For just a couple hundred dollars, I could buy an amazing device without tying myself to a contract. So I convinced myself cheap phones were the future. Maybe they still are. But not Motorola's Moto E. It isn't nearly daring enough.
What is it?
If the Nexus 6 and Moto X are the Batman and Superman of Motorola's smartphone lineup, the Moto E is like Aquaman. I mean, it's still pretty cool but you won't be impressing anyone. It's decent-looking and super affordable at $150 for the unlocked, off-contract version with LTE speeds, but it's also a mediocre experience that cuts one too many corners.
Who's it for?
For someone who doesn't give a crap about smartphones, who just wants to text and make phone calls, and just might check a Facebook or send a Twitter or three. I can't really recommend this phone for any specific feature except the ludicrously cheap price.
G/O Media may get a commission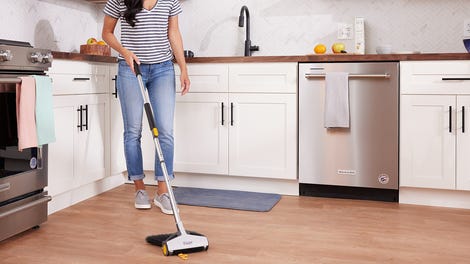 BOGO 50% Off
Flippr - BOGO 50% Off
Design
The Moto E is a cross between Motorola's highly lauded design—the depressed "M" logo on the back, the chrome speaker grill, the color customization—and a Fisher-Price toy. This thing is just super plastic. It does have a removable (plastic) rim so you can snap on different colors for highlights to give the phone a little personality... but that didn't really help me get rid of the nagging suspicion that this phone belongs in a big-box toy aisle. While the Moto G (which we're big fans of) is wider and therefore feels a bit slimmer, the 4.5-inch Moto E is kind of small and squat like its predecessor.
Some Moto E test shots
Everything from the volume rocker to the 5 megapixel camera reflect the money you're paying. By which I mean the speaker quality is pretty poor, camera pics are none too good, and the 245ppi screen isn't much to write home about. But to say there's nothing to love about the Moto E? Well, that's just not true.
Using it
I put the Moto E through the most rigorous test any gadget reviewer could possibly divine—five days in New York City with my parents. This meant Google Maps-ing, and phone calling, and opening an MTA transit map app to assuage my mom's fears that we were lost. Here's what I found.
The best part(s)
The Moto E actually does two things really well: software and battery life. I still believe that Motorola's skin makes stock Android even better. The interface is straightforward, clean, and has all the Material Design trappings of Android Lollipop, and you get some great Moto features as well.
While a lot of the real nifty and powerful features of Motorola's apps, like Moto Voice, are MIA on this guy, the always wonderful Active Display is here and it is great. Just a refresher: the Active Display is an always-on lockscreen feature that gives you quick access to notifications with just a touch, no need to unlock the phone. This worked great on the Moto X's AMOLED display because that screen tech allows phones to light individual pixels and not draw power needlessly. So, I was a little worried when I saw the Moto E came with an IPS LCD screen. That worry was unfounded.
Which brings us to the second best thing about the Moto E, the battery life. Surprisingly, while sipping on LTE and walking around NYC, I got a full day's charge out of the phone on what I'd call higher-than-average use. When I plugged in my phone after a full day of urban exploring, I still had some juice to spare. Very nice.
The tragic flaw
Although I may love Motorola's UI, the actual performance of the phone is pretty bad. Crashed apps, buggy interfaces, and pop-up windows basically telling me my phone sucks. The big sell on this device is its LTE speeds (compared to the Moto G which is still stuck on 3G in the US), but you'll spend so much time trying to get the hardware to spit out what you want it to do that the speed difference is negligible. At some points my entire homescreen would glitch into my app drawer for a few seconds. Also, apps just simply wouldn't work with worrisome frequency. When I wrote my review for the Moto G last year, these problems didn't exist at all.
Want to play some games? Forgetaboutit.
And by the time I imported all my must-have apps, the 8GB of storage (5GB actually usable) was completely filled up. At one point, I had to started deleting apps and offline albums on Spotify to free up a few megabytes just to refresh my email. Sure, you can get expandable storage to solve most of these woes (there's a microSD card slot under the removable band) but then you're looking at even slower performance and some apps don't even work on expandable storage at all.
Should I buy it?
No. Buy a Moto G, or maybe a OnePlus One. If you're really looking for a great smartphone in the sub-$200 price range, I'm still going to say that the $180 Moto G is your pick. Even without LTE (though that may be coming in a later Moto G), it's just able to handle tasks more fluidly, has a better display, dual-front facing speakers, and actually looks like a smartphone grownups would use.
That's not to say the Moto E isn't without charm, but why settle for less when an extra $30 buys you so much more?
Moto E Specs
OS: Android 5.0.2 (Lollipop) with Moto apps bundled in
CPU: Snapdragon 410 processor (LTE version)
Screen: 4.5-inch 960x540 IPS LCD (245 PPI)
RAM: 1GB
Storage: 8GB + Micro SD up to 32GB
Camera: 5 megapixel rear camera / 0.3 megapixel VGA front camera
Battery: 2390 mAh
Dimensions: 5.11 x 2.63 x 0.48 inches
Weight: 5.11 ounces
Price: $120 for 3G and $150 for LTE unlocked
---
Contact the author at darren.orf@gizmodo.com.