Instead of inundating you with post after post about the new Motorola handsets, I've decided to just combine them all into one. After the jump we describe in extremely brief sentences the capabilities of each phone. Two of the phones are 3G, and we are supposed to start seeing some of these as early as Q2 2005. Also, there is a Bluetooth headset in the mix.
Motorola's V1150 is a 3G ultra-slim clamshell phone with two, count 'em, two cameras. But there's a reason for this — one is 2MP and the other is VGA (640 x 480), intended to be used for video phone. Still, the 2MP camera has an 8x zoom and macro mode, which make a nice addition. Bluetooth support of course. Motorola has also equipped the phone with a slot for "TransFlash memory" up to 512MB in size, which I hope to god is not another flash memory format. Finally, there is support for all sort of video and audio formats such as WMV and MP3, in addition to synchronization with PCs via SyncML. Look for the V1150 in Q4 2005. Or not, because it will probably cost even more than the RAZR.
---
The SLVRlite V270, apart from having a retarded name, is a bar-type phone with Push to Talk over Cellular and IM capabilities. It likewise has support for Bluetooth, and can download terrible MP3 ringtones that will annoy the general public.
---
G/O Media may get a commission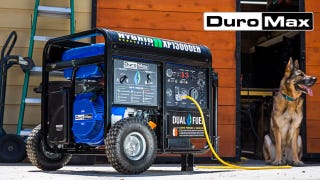 Black Friday Sale
DuroMax Generator Sale
Continuing, the V557 is a bonanza of "Push to Talk over _" technologies. While you do of course get the Push to Talk over Cellular we mentioned earlier, you also get Push to Talk over Cellular over Bluetooth, over EDGE, and "Push to View" for sharing pictures. Speaking of pictures, this puppy has a VGA quality camera. And no shortage of messaging options either — it has MMS, IM, and so many other acronyms you'll just want to clench your fist and yell "KAAAAAHN!"
---
The SLVRcam V280 is another bar phone, with VGA digital camera and the ability to record and play MPEG-4 files. Again with the Bluetooth, Push to Talk over Cellular, and MMS/IM.
---
Of all the new Motorola phone announced, I'd say I'm looking forward to the design of the V176 the most. It has a "compact flip phone form with black soft-touch," and everyone knows how much I'm a sucker for soft touches. While the cellular features themselves aren't exactly fantastic, I guess I'm too much of a sap for design. The V176 has no Bluetooth, no fancy MP3 playback, no Infrared, but it does have Push to Talk over Cellular. Woohoo.
---
The PEBL V6 follows the formulas of other phone announced with the whole Bluetooth/MPEG-4/camera deal, but in an interesting looking package.
---
The final phone is the V235, a clamshell with camera and integrated MP3/AAC ringtones. It supports EDGE for high speed data, video capture/playback functionality, Push to Talk, Bluetooth, and more MMS/IM mess.
---
The final product announced by Motorola is the H500 Bluetooth headset. It provides "up to 8 hours of talk time and 130 hours of standby time," as well as a multi-function button to control 3-way calling, mute, and so forth. And you simply can't go wrong with a product that has a blue LED, right?
---
Motoinfo [Motorola]