The trailer for MTV's Teen Wolf series is out. And they've replaced the movie's werewolf basketball with werewolf LACROSSE. What were they thinking?
Allegedly, this entire show was inspired by the 1980s cult favorite werewolf movie of the same name, starring Michael J. Fox. But after watching the trailer, this thing seems more like the child of Twilight and its simple-minded half-sister Vampire Diaries.
Could we like this show? Sure. But this series "sparkle cocks" in comparison to the Teen Wolf movie. It just looks joyless, which is a very important part of the teenaged wolf world. Even the first cast pic is completely devoid of self awareness....
G/O Media may get a commission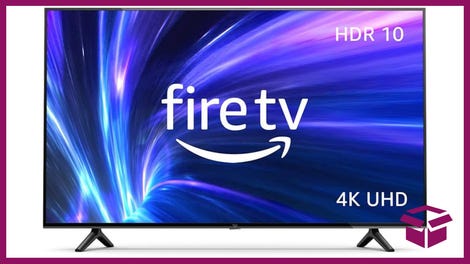 42% Off
Amazon Fire TV 50" 4K Smart TV
Our suggestion, call this series something else and let it find its own path without tainting the legacy that is Teen Wolf. Oh, who are we kidding? It's cute teenagers coping an under-the-shirt, over-the-bra fondle with paranormal entities — get your checkbooks out now!
[via Screencave]
Many thanks to Braak for the title help.