Movies! We all watch them, we all love them, we all criticize them. My Daily Clip is an iOS app that plays one movie clip a day to tickle your eye. And to watch, love and criticize.
What is it?
My Daily Clip, Free, iPad and iPhone. It lets you watch a different movie clip every single day. When you fire up the app, you'll see a timeline of clips that correspond to each specific day. Like for example, today they're showing a 3-minute blip of White Chicks, tomorrow will be Open Season. What's nice about the app is that previous day's clips are playable too, so you get a huge backlog of movie clips to go through. Also, each clip comes with a trivia question to test your Ebert-in-training skills.
But it's only clips of movies! If you want to actually sit down and enjoy the full feature film, you'll need to spend money to buy it on iTunes. Since the app is made by Sony Pictures, it's basically a conduit for selling their flicks. Which I don't mind! But would absolutely love to see more clips than just one. The idea and execution are great.
Who's it good for?
People who love movies. People who enjoy watching random clips. People who don't always know what they want to watch. People who enjoy the hell out of YouTube and watching movies on TV.
G/O Media may get a commission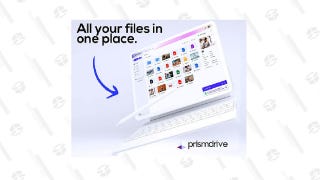 Save 97%
Prism Drive Secure Cloud Storage: Lifetime Subscription
Why's it better than alternatives?
It might be only Sony Pictures flicks, but it's got a huge variety of movies. As in, some are silly fun, like the aforementioned White Chicks, others are verifiable classics like Bad Boys II (okay fine, Philadelphia). Instead of doing just classics or shorts, there's more movies here that I maybe missed and wanted to see or willing to watch again. Easy, simple, painless fun.
How could it be even better?
Since it's a Sony app, it only offers movies from Sony Pictures. Other studios would be great! Also, if it somehow allowed you to stream the movie from Netflix instead of just buying from iTunes, that'd be kickass. The app is suppose to be simple, which is great, but I'd love for a few more clips, a few more trivia questions and maybe even a free full feature movie every now and again.
My Daily Clip | iTunes
We're always looking for cool apps—for iOS, Android, Windows Phone or whatever else—to feature as App of the Day. If you come across one you think we should take a look at, please let us know.
For more apps, check out our weekly app roundups for iPhone, iPad, and Android