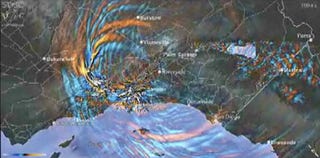 Wired Science has picked the best science visualization videos of 2009. And from there, I've picked my three favorite ones. Note to self: Don't go to Los Angeles or anywhere near the San Andreas fault.

Above you can see a simulation of the Big One, a 7.8 earthquake on Southern California. It starts south of Palm Springs and ends obliterating Los Angeles, Ventura, and Santa Barbara. 12 terabytes of simulation data was used in this.


This is a Type Ia supernova, which in theory is a exploding white dwarf star in a binary system. Nice fireworks.


This video shows the seasonal carbon dioxide cycle, base on data collected by NASA's Goddard Earth Observing System Model, Version 5.
Head to Wired Science to see the rest of the eye candy. [Wired]