This is as fascinating as it is unsettling. Scientists at the Department of Energy's Savannah River Site — a nuclear reservation in South Carolina — have identified a strange, cob-web like "growth" (their word, not ours) on the racks of the facility's spent nuclear fuel assemblies.
According to a report filed by the Defense Nuclear Facilities Safety Board, "the growth, which resembles a spider web, has yet to be characterized, but may be biological in nature."
The Augusta Chronicle reported today that the "white, string-like" material was discovered amidst thousands of the spent fuel assemblies, which are submerged in deep nuclear storage pools within SRS's L Area Complex. (The image up top is of a similar nuclear storage pool at Italy's Caorso Nuclear Power Plant, which was decommissioned in 1990.)
The safety board's report claimed that the initial sample of the growth was too small to characterize, and that "further evaluation still needs to be completed."
I don't know what's more intriguing — the fact that the "growth" resembles a spider web, the fact that it may be biological in nature, or the fact that (even after collecting a sample of the stuff) we still don't know what it is or where it came from.
G/O Media may get a commission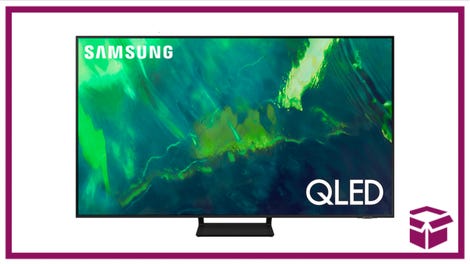 35% off
Samsung Q70A QLED 4K TV
Save big with this Samsung sale
If you're ready to drop some cash on a TV, now's a great time to do it. You can score the 75-inch Samsung Q70A QLED 4K TV for a whopping $800 off. That knocks the price down to $1,500 from $2,300, which is 35% off. This is a lot of TV for the money, and it also happens to be one of the best 4K TVs you can buy right now, according to Gizmodo.
We've already tried getting in touch with both the Savannah River Site as well as the Defense Nuclear Facilities Safety Board, but so far have been unable to speak with anybody to ask additional questions about the growth and where it's occurring specifically.
Could we be dealing with an unknown species of extremophile? It's possible — the Savannah River Site's storage facility (The L Area Complex mentioned above) stores spent nuclear waste in pools that are anywhere from 17-30 feet deep, and while that water is enough to protect the site's workers from radiation, the growth was reportedly found underwater on the submerged fuel assemblies themselves.
Having said that, we're still not clear on how much, if any, radiation this growth has actually been exposed to. Organisms with a natural resistance to radiation are said to be "radioresistant," and certainly do exist; Deinococcus radiodurans, for example (pictured here) is not only one of the most naturally radioresistant organisms on Earth, we've actually genetically engineered Deinococcus that can be used in the treatment of radioactive waste.
We'll keep you posted as we learn more about this mysterious growth. [The Augusta Chronicle]
Images via wikimedia commons