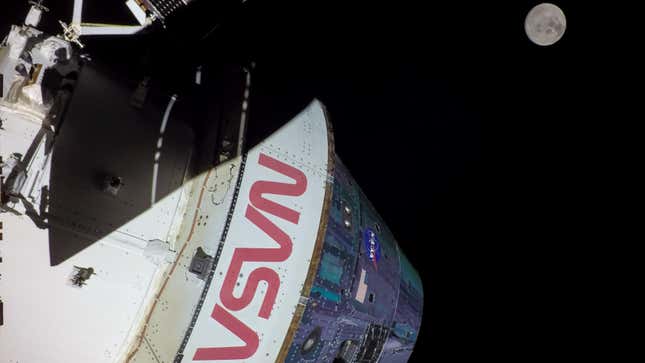 NASA's Moon plans officially kicked off in November 2022, and the party is just getting started. The Orion capsule flew to the Moon and back as part of the Artemis 1 mission, but now the spacecraft is gearing up for its second lunar trip with a crew of astronauts on board.
Astronomers Could Soon Get Warnings When SpaceX Satellites Threaten Their View
On April 3, NASA and the Canadian Space Agency (CSA) will reveal the four-person crew that will ride on board Orion for the Artemis 2 mission. The event will take place at NASA's Johnson Space Center's Ellington Field in Houston on Monday at 11:00 a.m. ET and you'll be able to watch the big announcement live.
The crew reveal will air on the space agency's website and NASA Television, but you can also tune in live through the live feed below. The CSA will also livestream the event on its YouTube channel.
The Artemis 2 crew will include three NASA astronauts and one Canadian astronaut, making Canada the second country to send an astronaut for a trip around the Moon.
Canada currently has four active astronauts, so the choice will be between one of them. The Canadian astronaut will fly on Artemis 2 as part of an agreement with NASA, as Canada is a member of the lunar program. Canada will also provide Canadarm 3, a robotic arm that will be attached to the Lunar Gateway, a planned orbital outpost around the Moon. Another Canadian astronaut will fly to the Gateway sometime in the future.
NASA, on the other hand, will choose from 42 active astronauts, all of whom are eligible for the trip, according to a statement by Reid Wiseman, chief astronaut at NASA, in August 2022.
The space agency had previously announced a select group of 18 astronauts for its Artemis program in December 2020 that included Christina Koch and Jessica Meir, who took part in the first all-female spacewalks, as well as Jessica Watkins, the first Black woman to embark on a long-term mission in space and the first to live and work on the ISS. 
Artemis 2 is currently slated for launch in November 2024. Unlike its successor, Artemis 1, which did not include a crew on board for the 25-day trip to the Moon and back, Artemis 2 will have a crew strapped into the Orion capsule. That crew, however, will not land on the Moon. Instead, that's the job of Artemis 3, which is scheduled for launch sometime in 2025, and will see the first woman on the surface of the Moon.
It's all very exciting and we can't wait to learn the names and faces of the historic crew of astronauts traveling to the Moon since the days of Apollo.
For more spaceflight in your life, follow us on Twitter and bookmark Gizmodo's dedicated Spaceflight page.