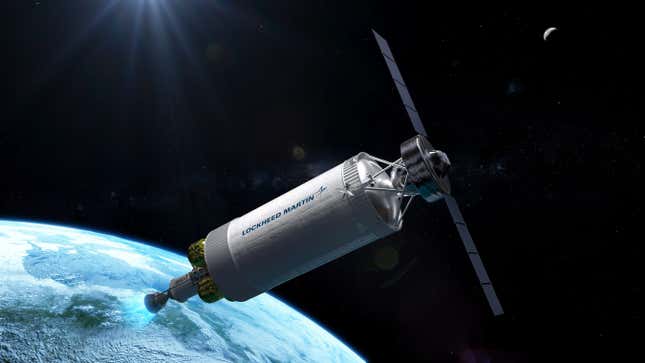 As NASA shifts its gaze back to the Moon and sets its sights on Mars and beyond in the coming decades, the agency is rethinking the means by which we'll get there. After previously announcing a collaboration between NASA and the Defense Advanced Research Projects Agency (DARPA) for a nuclear-powered rocket intended for long-distance space travel, the two agencies have now selected Lockheed Martin to develop a demonstration.
Taylor Lorenz Talks "Extremely Online"
The collaboration is called DRACO, or Demonstration Rocket for Agile Cislunar Operations, and the project is now entering the design phase, according to a DARPA press release. Lockheed Martin will be working with BWX Technologies on the design and upcoming test of the nuclear thermal rocket engine, or NTR, according to the company, with collaborator BWXT providing DRACO's reactor and its high-assay low-enriched uranium fuel. BWXT revealed in a press release that the DRACO test rocket is scheduled for a 2027 launch.
"The DRACO program aims to give the nation leap-ahead propulsion capability," said DARPA program manager Tabitha Dodson in the release. A nuclear thermal rocket engine "achieves high thrust similar to in-space chemical propulsion but is two-to-three-times more efficient, she said, add that, with a successful test, "we could significantly advance humanity's means for going faster and farther in space and pave the way for the future deployment for all fission-based nuclear space technologies."
During the test, a conventional rocket will launch DRACO from Earth with the reactor turned off and, upon reaching an altitude above low Earth orbit, mission controllers will switch the reactor on. NASA previously stated in a January press release that the engine will see a fission reactor generate high temperatures to heat a liquid propellant, which then expands and is ejected through a nozzle to propel the spacecraft. NASA also said at the time that the nuclear thermal engine could be three or more times more efficient than traditional chemical propulsion.
"Our intent is to lead and develop a blueprint for human exploration and sustained presence in the solar system," said NASA deputy administrator Pam Melroy in a NASA fireside chat in January. "DRACO will be a critical part of evaluating the technologies that will take us deeper into the solar system."
Reducing travel time to the Moon, Mars, and other locations in the solar system will subsequently reduce the amount of supplies needed for transit, which in turn can free up space for additional scientific payloads and more efficient communications equipment, NASA previously said. Faster trips are safer trips since astronauts will spend less time being pelted by cosmic radiation while moving through space. NASA and DARPA's timeline of a 2027 in-space test gives these agencies plenty of wiggle room to fine tune the rocket technology ahead of a possible crewed mission to Mars in the late 2030s.
For more spaceflight in your life, follow us on Twitter and bookmark Gizmodo's dedicated Spaceflight page.