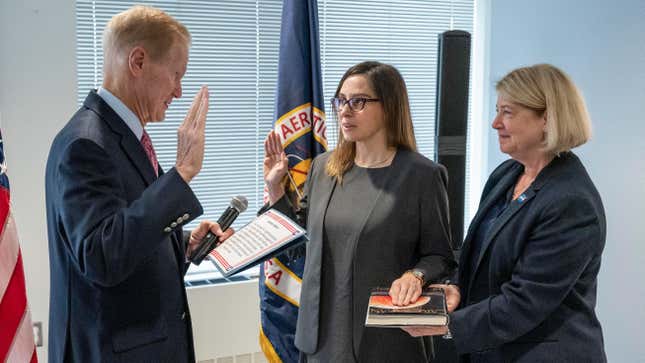 When Dr. Makenzie Lystrup was sworn in as the new director of NASA's Goddard Space Flight Center last week, she didn't take her oath of office on the Bible or the U.S. Constitution, but rather on a tome revered by space enthusiasts everywhere: Carl Sagan's Pale Blue Dot.
What Is Carbon Capture? With Gizmodo's Molly Taft | Techmodo
The book, published in 1994, is named after an iconic image of Earth, snapped by the Voyager I probe, that depicts the planet as a small speck smothered by the emptiness of space. That photo inspired astronomer Carl Sagan to write: "Look again at that dot. That's here. That's home. That's us." For many, the book serves as a reminder of humanity's place in the universe and the need to preserve our home planet, which makes it similar to holy scripture for a newly appointed NASA director.
On Thursday, when Lystrup chose to place her left hand on a copy of Sagan's book while being sworn in by NASA Administrator Bill Nelson, a photographer captured the moment, and NASA Goddard's social media shared the image.
The constitution does not require that government officials be sworn in using a particular text, just that they "shall be bound by Oath or Affirmation, to support this Constitution." Most U.S. politicians and officials end up using the Bible.
But over the years, many officeholders have improvised while taking their oath. In 2018, Mariah Parker was sworn in as a member of the Athens-Clarke County commissioners with her hand placed on a copy of "The Autobiography of Malcom X." When former U.S. ambassador to Switzerland Suzi LeVine took her oath in 2014, she put a hand on her Kindle. Keith Ellison, the first Muslim to be elected to Congress, took his oath in 2007 using the Quran.
Sagan is a revered figure in the space sciences community for his pioneering contributions to space exploration. "Like many astronomers and space scientists, my passion started with watching Carl Sagan's 'Cosmos' on public television as a child," Lystrup, who is a planetary scientist like Sagan, said in an emailed statement. "Sagan worked very hard to make science accessible and meaningful to everyone, and 'Pale Blue Dot' emphasizes the importance of exploring our universe and understanding our home planet." 

"Given its personal significance to me and how its message resonates with the work we do at NASA Goddard on behalf of the world, it felt apropos to include it in the ceremony," she added.
Lystrup will be the first female center director of the Goddard Space Flight Center, which includes a primary campus in Greenbelt, Maryland, as well as Wallops Flight Facility in Virginia, the Katherine Johnson Independent Verification & Validation Facility in West Virginia, the Goddard Institute for Space Studies in New York, the White Sands Complex in New Mexico, and the Columbia Scientific Balloon Facility in Texas.

Goddard is home to the nation's largest concentration of scientists, engineers and technologists dedicated to Earth and space science, according to NASA.
This post was updated to include the quote from Lystrup.
For more spaceflight in your life, follow us on Twitter and bookmark Gizmodo's dedicated Spaceflight page.