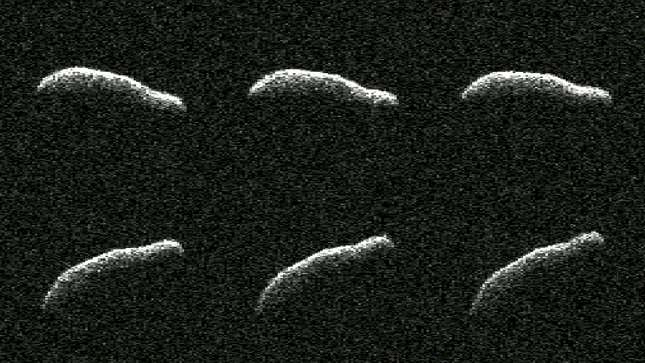 Six radar observations made of an asteroid swinging by our planet have revealed an unusually oblong space rock. The object is three times as long as it is wide—an irregular shape, as far as asteroids are concerned.
The asteroid, called 2011 AG5, is about the shape and size of the Empire State Building, minus the 222-foot antenna of course. The asteroid's nearest approach to Earth happened on February 3, when it came within 1.1 million miles of our planet. (When scientists talk about close approaches, they're usually speaking relatively.) The Webb Space Telescope, for comparison, is about 1 million miles from Earth.
The asteroid was detected in 2011 but only recently came close enough for scientists to get a good look. It's about 1,600 feet long and 500 feet wide, and was observed by the Goldstone Solar System Radar at a Deep Space Network facility between January 29 and February 4.
According to the team that spotted and measured the asteroid, it's very long. "Of the 1,040 near-Earth objects observed by planetary radar to date, this is one of the most elongated we've seen," said Lance Benner, a principal scientist at NASA's Jet Propulsion Laboratory, in an agency release.
The team also found that 2011 AG5's rotation rate is fairly slow: It takes nine hours for the object to complete a rotation. The asteroid's next flyby of Earth won't occur until 2040, when it will pass us at a distance of roughly 670,000 miles, about three times as distant as the Moon. For now, it's continuing its 621-day orbit of the Sun.
G/O Media may get a commission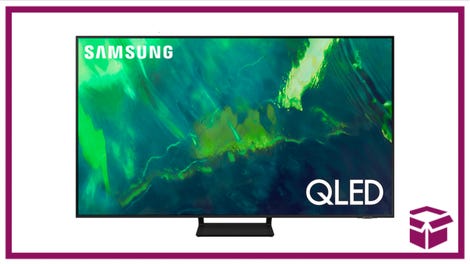 35% off
Samsung Q70A QLED 4K TV
Save big with this Samsung sale
If you're ready to drop some cash on a TV, now's a great time to do it. You can score the 75-inch Samsung Q70A QLED 4K TV for a whopping $800 off. That knocks the price down to $1,500 from $2,300, which is 35% off. This is a lot of TV for the money, and it also happens to be one of the best 4K TVs you can buy right now, according to Gizmodo.
Near-Earth objects swing by our planet with regularity, and NASA keeps a wary watch on them. Last month, an asteroid passed by safely about 2,200 miles above South America, making it one of the closest documented flybys of a near-Earth object.
NASA recently upgraded its impact monitoring system, which could help the agency prepare for any near-Earth object that threatens to become an impacting-Earth object. In September, NASA's DART mission successfully changed the orbit of a small asteroid about 6.8 million miles from Earth, a groundbreaking demonstration of humanity's ability to alter the motion of objects in space.
The oblong asteroid's recent visit gave astronomers an opportunity to better understand the diversity of shapes in space. Most things in space are spheres or discs, so it's always fun to find an outlier.
More: An Asteroid Is Passing Earth Today, so Scientists Are Shooting It With Radio Waves