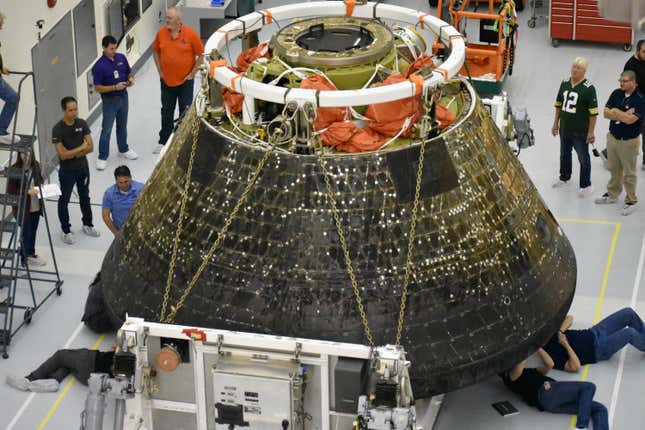 The Artemis 1 demonstration mission ended with a Pacific Ocean splash on December 11, but the task of evaluating the returned capsule, including its heat shield and internal payloads, has only begun.
Astronomers Could Soon Get Warnings When SpaceX Satellites Threaten Their View
Orion survived its historic 1.4-million-mile journey to the Moon and back, but it now needs to survive an entirely different test: the scrutiny of NASA engineers. The uncrewed capsule splashed down in the Pacific Ocean in mid-December and was transported to Naval Base San Diego following its recovery. A truck delivered the capsule to Kennedy Space Center in Florida on December 30, where it's now being de-serviced at NASA's Multi-Payload Processing Facility.
A NASA photo taken on January 2 shows the capsule in the inspection bay, with several engineers crawling beneath the spacecraft to take a closer look at its heat shield. This was done in preparation for removing the heat shield entirely and transporting it to a different facility for detailed inspections, NASA explained in a statement.
The heat shield took the brunt as it protected the capsule from 5,000-degree temperatures during reentry. Orion made history as being the fastest human-rated spacecraft to return from the Moon, hitting the atmosphere at speeds reaching 24,600 miles per hour (39,590 kilometers per hour). The performance and integrity of the heat shield is critical to the Orion system and the Artemis program as a whole, which seeks to return humans to the lunar surface later this decade. The Artemis 1 demonstration mission tested both the Space Launch System (SLS) rocket and the Orion spacecraft, as NASA now sets its sights on Artemis 2—a repeat of Artemis 1 but with astronauts aboard.
NASA technicians also removed external avionics boxes and are in the process of inspecting the capsule's windows and the thermally protected back shell panels, which cover the spacecraft. Five airbags, now deflated, can still be seen atop the capsule. Those airbags kept Orion floating right-side-up after splashdown.
An important next step will be to extract air samples from within the capsule. Orion will then be fitted into a service stand that will allow technicians to access the interior. After opening the hatch for the very first time, technicians will remove internal avionics boxes and internal payloads, including the three manikins—Campos, Helga, and Zohar—who came along for the journey. NASA plans to reuse the avionics boxes for the Artemis 2 mission.
The de-servicing and inspecting of Orion will take months to complete, with other next steps including the removal of hazardous commodities and running acoustic vibrations tests at at NASA Glenn's Neil A. Armstrong Test Facility in Ohio. Orion will eventually get its report card, allowing NASA to make any necessary changes in preparation for the crewed Artemis 2 mission, which won't happen any earlier than late 2024.
More: See the Best Images from the Thrilling Artemis 1 Splashdown