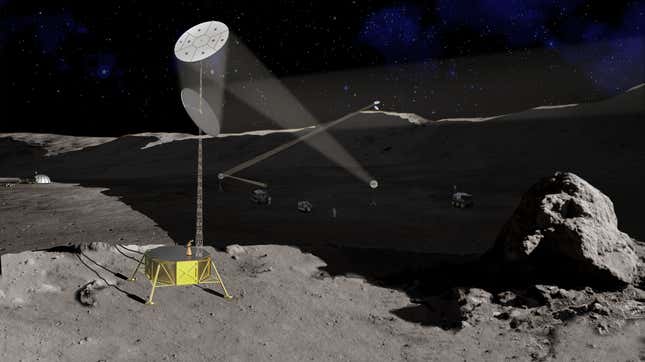 As humanity looks to establish a long-term presence on the Moon, we might need a team of robots to redirect incoming sunlight to shadowed regions that would otherwise never see the light of day.
Astronomers Could Soon Get Warnings When SpaceX Satellites Threaten Their View
With the help of NASA, Maxar Technologies is developing a system to bounce incoming sunlight to solar panels located in the dark, thereby providing an assortment of applications with much-needed solar power, the company announced on Monday.
The system, called Light Bender, would have to be built by robots operating autonomously in the lunar environment. The receiving solar panels could be mounted onto rovers, robots, communications systems, habitats, scientific instruments, or anything else requiring power. It's an ingenious idea—one that could provide solar power to regions or spots (such as impact craters) that would otherwise never receive sunlight.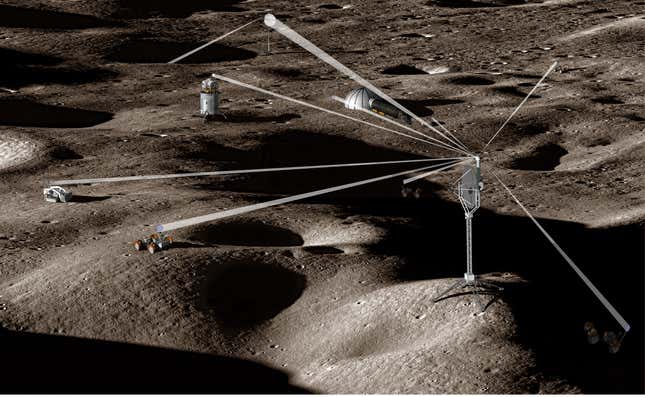 These dark regions of the Moon's surface, including areas on the lunar south pole that are hidden from sunlight, could hold valuable resources such as ice water reservoirs. Exploring and working in the Moon's shadowed regions is a vital part of NASA's upcoming Artemis missions.
Light Bender was selected by NASA under its Announcement of Collaboration Opportunity to develop technologies related to the space agency's Moon to Mars objectives. The concept is currently in development and is scheduled for an Earth-based demonstration in 2025.
Light Bender involves a 20-meter high pole, or telescoping mast, with two 10-meter reflectors, one at the bottom and one at the top. The bottom reflector will catch the Sun's rays and reflect them to the secondary mirror, which then passes the light onto the receiver.
"Part of what we're doing is conceptually simple, reflecting sunlight to a solar panel located in the dark," Sean Dougherty, Maxar chief robotics architect and lead for Light Bender, said in the company's statement. "Where it gets complex is doing that without humans involved."

That's right, this is a job for the robots. The company wants to use robots to autonomously assembly and deploy the set of reflectors on the Moon. "The Light Bender reflectors will be the largest ones autonomously assembled in space," Dougherty said. "Ten-meter mirrors would nearly span the width of a tennis court, and we're studying how to build it autonomously. It's no easy feat, but we have the expertise to do it."
Maxar has built robot parts for NASA before, namely the robotic arms on the space agency's Martian rovers. Spirit, Opportunity, Curiosity and Perseverance rovers, as well as the Phoenix and InSight landers, were all outfitted with a Maxar arm. The company is also building a robotic arm for NASA's On-orbit Servicing, Assembly, and Manufacturing 1, a spacecraft designed to service satellites in orbit, as well as the Sample Acquisition, Morphology Filtering and Probing of Lunar Regolith (SAMPLR) arm, also designed for the Moon.
"Robotics are key to realizing the goals of expanded lunar exploration," Dougherty said. "We don't currently have construction crews on the Moon or Mars, so robots will have to step in."
 For more spaceflight in your life, follow us on Twitter and bookmark Gizmodo's dedicated Spaceflight page.