In what will be a historic first for the US space agency, NASA has agreed to send supplies to the International Space Station aboard a previously used Falcon 9 rocket booster.
On Friday December 8th, SpaceX will launch 2.5 tons of supplies to the ISS from pad 40 at Florida's Cape Canaveral, and it'll do so with a rocket booster that's been used before. It's no big deal as SpaceX has done this three times already, but this time around the client is none other than NASA.
It's a bold and swift move for this traditionally conservative organization. NASA will now join SES, Space Systems/Loral, Iridium, and Israel's Spacecom as organizations who are leveraging SpaceX's ability to send payloads into space, and then land its booster rocket back on Earth so that it can be used again. The launch on December 8th will mark the fourth time that Elon Musk's company will use a previously-flown booster. To date, all of these launches have gone off without a hitch.
As Spaceflight Now reports, NASA approved the mission a few days ago, but the decision wasn't made lightly. NASA engineers have been studying SpaceX's refurbishment and test processes very carefully, making sure the space agency's cargo will be delivered to the ISS safely.
"Some [rocket booster] components are removed and some new components are added," Gerstenmaier said in a meeting of the NASA Advisory Council's human spaceflight committee earlier this week. "There's a detailed list of what inspections need to be done. They did a detailed test program. They did a detailed plan."
G/O Media may get a commission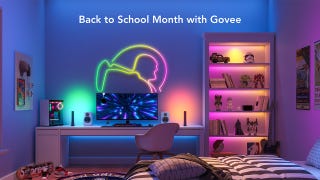 Back to School
Back to School Month with Govee Sale
NASA said it's satisfied that SpaceX's reused booster will be just as reliable as a new booster, reports Spaceflight Now. That said, the space agency said it didn't accept reusing boosters in "a generic sense," meaning that this case is not part of a new blanket policy, and that NASA engineers will evaluate each booster on a case-by-case basis. It's undeniably fastidious, but it seems NASA doesn't want to take any chances.
If NASA was in the habit of taking chances, it'd probably have its own reusable rocket by now. Oh, and if it also had sufficient government funding. Just sayin'.
We reached out to SpaceX for comment and will update this post should we hear back.