Following closely on the heels of its April 11 announcement that Bruce Willis' band will headline a concert series that I, for one, will not be attending, Netflix today announced the appointment of Anthony Wood, founder of both ReplayTV and Roku, as VP of Internet TV.
That means a Netflix set-top box, right? Follow the jump for unclarification.

Although the press release stresses that Wood's role will be to strengthen Netflix's budding Internet video platform—Watch It Now—currently available only on PCs, it couldn't help but mention that a) Netflix was "expanding its selection of instantly viewable content and [would] work to bring the feature to all Internet-connected screens, from cell phones to PCs to plasma TVs" and b) that "Wood is best known as the creator of the digital video recorder."
On the other hand, wasn't ReplayTV's latest version a software-only product? By then it was out of Wood's hands, but it definitely serves as a reminder that entering into the set-top box fray between the Comcasts and Verizons of the world may not be the best play, even for a powerhouse like Netflix.
G/O Media may get a commission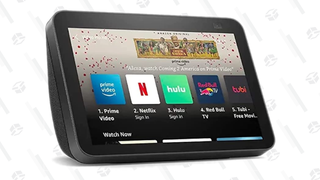 Netflix Taps ReplayTV Founder to Head Internet TV Group [BetaNews]