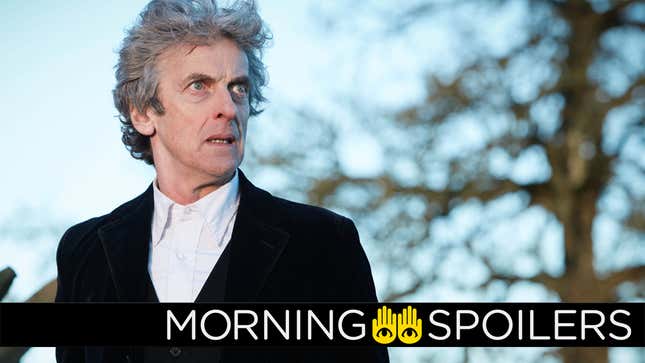 Another Spider-Man villain is confirmed for Homecoming. A new Jetsons TV show could be in the works. Rosario Dawson has already exited New Mutants. No one can get their story straight about Spider-Man's role in Venom. Plus, a new clip from the next episode of Preacher, and behind the scenes on The Last Jedi. Spoilers get!

Vizio's Latest TVs Go All Quantum

Wonder Woman 2
Speaking with The Advocate, Patty Jenkins revealed she's had an "epiphany" regarding Wonder Woman 2—being that she sees it less as a continuation of the first movie and its own, whole thing.
I had an epiphany about Wonder Woman 2. I was like, you don't have to do this. It doesn't have to be a foregone conclusion that you do Wonder Woman 2. But then as I was falling asleep I had an epiphany. I was like, Wait a minute. You have the greatest character of all time that you love dearly, with a cast that you love sitting at the palm of your hand at this day and age — you can do whatever you want with them — are you crazy? And then I suddenly realized, it's not more, it's another movie. It's its own movie. And it's got to be great. It's a continuation of the same character, but there's a great, entirely different story to be told. With this character in our—in the world, that's fun, because now she exists, just funny, and also says something profound about the world we're in right now.
---
X-Men: Dark Phoenix
Lamar Johnson has joined the cast in an undisclosed role. THR also reports that Evan Peters will return as Quicksilver, which is not entirely surprising as he's been in the past two of these movies.
---
New Mutants
Variety reports that Alice Braga has replaced Rosario Dawson as Dr. Cecilia Reyes, a mentor to the New Mutants team as well as a mutant herself, capable of manipulating an invisible bio-field around her body.
---
Spider-Man: Homecoming
It's confirmed: Michael Mando is playing Mac "The Scorpion" Gargan in the movie... although whether it's just Gargan or the actual Scorpion in action remains to be seen, cheeky Lego figure announcement or otherwise.


---
Venom
Kevin Feige has confirmed Tom Holland will not appear in Sony's Venom, contrary to reports and discussion from Sony last week. Please look forward to an announcement in the coming days that completely says the opposite of this, leaving us all the more confused.


---
Star Wars: The Last Jedi
The British Film Institute has released a new featurette about trainees from its Academy who have been working on production for the movie. Come for the occasional sneak peeks behind the scenes on the new Star Wars, stay for the inspirational stories of young people getting into film production!


---
Doctor Who
New pictures from filming for the Christmas special seem to confirm previous reports that the upcoming final episode of Peter Capaldi and Steven Moffat's time on the show will see the Twelfth Doctor team up with a past incarnation—specifically, the first Doctor, played by David Bradley as he did for the 50th anniversary drama An Adventure in Space and Time. Squint and you can just about make out a fez and cloak-wearing figure who looks very first Doctor-y.
---
The Jetsons
TV Line reports a live-action Jetsons series in development at Warner Bros., with Family Guy's Gary Janetti hired to oversee the project—although there's no further details just yet.

---
American Horror Story
Alison Pill has joined the cast in an undisclosed role, having been spotted on set for filming recently.
---
The Deep, Mad Dark
Tom Wlaschiha has joined the cast of TNT's upcoming mystery scifi drama as Joda, "a mysterious neighbor who might not be who he seems". [Bleeding Cool]
---
Inhumans
Henry Ian Cusick spoke to Screen Rant about the intense secrecy surrounding the series.
I spoke to Ken Leung (Karnak) about it and I asked, 'Is it like the comics?' and he said, 'Yes!' We started talking and I got a little bit of information from Ken about the scripts because Marvel was so secretive about them that even though I was getting my pages I wasn't getting the entire script. But then they decided I could have the entire script. It's super secret.


---
Riverdale
Episode 4 of the second season is titled "The Town That Dreaded Sundown", after the classic 1976 horror film fictionalizing the unsolved murders of the Texarkana Phantom Killer. NO ONE is prepared for it, so says showrunner Roberto Aguirre-Sacasa.


---
Shadowhunters
Shadowhunters celebrates Yom Kippur in the synopsis for June 17th's "Day of Atonement".
With everything that Simon has gone through this past year, a family dinner for Yom Kippur – the Jewish Day of Atonement – poses as a real challenge. How can he come clean about being a vampire and especially about what just happened to his family? And if he is stressed out, what if he can't control his vampire urges? Looking to take care of this himself, Maia insists on helping him out whether he likes it or not. Meanwhile, Clary and Jace go on an unsanctioned mission and test out their newfound rune powers.
---
Preacher
Finally, here's a clip from this week's episode, "Damsels".
---
Banner art by Jim Cooke.