What exactly is going on with the script for Chronicle 2? Matt Damon joins Terry Gilliam's trippy new movie Zero Theorem. See Doctor Who's newest companion in action in the latest set photos. Plus The Walking Dead, Fringe, and more!
Spoilers from here on out!
Top image from Doctor Who.
The Wolverine
Here are some set photos of Tinker Tailor Soldier Spy actress Svetlana Khodchenkova as Viper, one of the movie's main villains. Her casting was never technically confirmed by 20th Century Fox, although we can say it's more or less official at this point. [Comic Book Resources]
And here's a bunch more set photos, including one rear shot of Will Yun Lee (or a stand-in, I guess) as the Silver Samurai, the primary antagonist. [Comic Book Moive]
---
Chronicle 2
Veteran director John Landis, the father of Chronicle screenwriter Max Landis, explains the rather discouraging current state of the planned sequel:
"He wrote a sequel, and it's amazing, and the studio read it and said, 'We want 'Chronicle' again!' And he said, 'No, this is the sequel, it's the evolution, and they said 'No, we want that movie again!' So it's difficult, we're dealing with a difficult business."
G/O Media may get a commission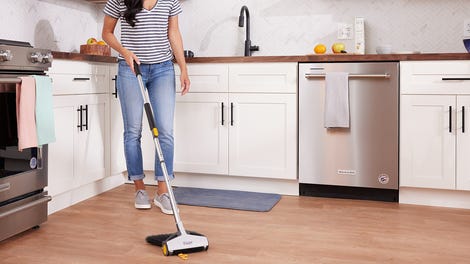 BOGO 50% Off
Flippr - BOGO 50% Off
In terms of what this evolution might mean, Max Landis has said previously that this film would address the fallout of the very public battle in Seattle at the end of the first movie. [The Playlist]
---
Zero Theorem
Matt Damon reveals that he has a small part in Terry Gilliam's latest, about a computer scientist played by Inglourious Basterds's Christoph Waltz puzzling out a theorem that explains human existence while awaiting a phone call — pretty straightforward by Terry Gilliam standards, really. Anyway, here's what Damon has to say about his role:
I'm just doing a very small part in it. Someone finally gave him money to do this one, thank God. It's with Christoph Waltz and Tilda Swinton. I'd do anything for Terry. It's been ten years since I last worked with him. I wrote Terry this whole e-mail, because we had this whole conversation about what the character would look like, because the story takes place in the future, but he had a specific look that he wanted, but then I had to [points to shaved head], and I said, "Terry, what should we do?" And he said, "Actually, we can take advantage of the fact that your head is shaved. Why don't we change your hairline?" So he mocked up a picture and sent me a real receding hairline, with white spiked hair. "We might as well take advantage of the fact that you're bald and really do something, present you in a way you've never been seen before."

White spiked hair like punk rock or Graydon Carter–style?
Graydon Carter–style. But we'll see when I get there. They're making the wig now, and I saw the hair sample - they've got to get it to London and send it. It's, like, gray-white. He's supposed to be my age, and it's supposed to be a believable hairline, but a few inches back to here [points to an area much further back]. Still believable that it could be mine, and then they'll fine shave my head all the way down. Terry's so visual, you know, which I love. It makes it very easy to work with him. He always knows exactly what he wants.
[Vulture]
Terry Gilliam has also revealed that Fargo's Peter Stormare and The Kumars at No. 42 star Sanjeev Bhaskar have been cast in the movie, cryptically revealing they "will be sharing two parts at the same time" and implying their comedic abilities will be key to their roles. [/Film]
---
Van Helsing
Presumably figuring the best way to keep a low profile is to stand next to someone who attracts even more salacious headlines, Snow White and the Huntsman director Rupert Sanders is reportedly in talks to direct Tom Cruise's Van Helsing movie. The reboot of the early-00s would-be franchise — that may be the most depressing combination of words ever uttered about the entertainment industry, incidentally — features a script from Star Trek and Transformers writers Roberto Orci and Alex Kurtzman. [Twitch Film]
---
Doctor Who
Here are some set photos from the current filming of episode six — not counting the Christmas special as part of the 13-episode seventh season, in case you're wondering about the numbering. The images are courtesy of WENN.com.
Fringe
Because it's Fringe's final season and they can make animated promos for live-action episodes if they damn well please... here's an animated promo for tomorrow night's "The Recordist."

---
The Walking Dead
Here's a pair of behind-the-scenes photos of Danai Gurira as Michonne and Laurie Holden as Andrea at the show's Woodbury set. [TV Line]
Lauren Cohan discusses what's ahead in this Sunday's season three premiere, in particular for her character Maggie:
[Settling into the prison] is not as easy as it seems. They have to hack their way into the prison...She's the same girl, but she steps up and takes action that she needs to take. She's definitely in there with the guys."
She also says the show isn't going to get to Glenn and Maggie having a baby just yet, but it will present a very strong view of their relationship. [E! Online]
Also, the first two episodes will feature a ton of death — though not the big character death that's previously been reported, that happens later — and also a flirty moment between Daryl and Carol. Also, the eighth episode, which functions as the midseason finale, is tentatively titled "Made to Suffer." [TV Line]
---
Revolution
Here are some promo photos for next Monday's episode, "Soul Train." [SpoilerTV]
---
Once Upon a Time
Here's a sneak peek for this Sunday's episode, "Lady of the Lake."

And here are some promo photos. [BuddyTV]
---
666 Park Avenue
Here's a short description for episode six, "Diabolic":
Jane is devastated when she doesn't receive much support from Henry or the detectives investigating the terror she experienced; Dr. Evans' gambling addiction leads to him becoming indebted to Gavin.
---
Supernatural
Here are some promo photos for the fourth episode, "Bitten." [BuddyTV]
Here's the synopsis for episode five, "Blood Brother":
BENNY CALLS DEAN FOR HELP - After Benny (Ty Olsson) gets brutally beat up by some vampires, he calls Dean (Jensen Ackles) for help. Dean abruptly packs up and tells a confused Sam (Jared Padalecki) that he's taking a "personal day." Benny confesses that he's going after his Maker (guest star Patrick Stafford) so Dean offers to help, flashing back on the many times Benny helped him and Castiel (Misha Collins) in Purgatory. Meanwhile, Sam (Jared Padalecki) uses his solo time to reflect on the life he left behind with Amelia (guest star Liane Balaban). However, when things go bad for Dean and Benny, Dean calls Sam for help, which makes everything very complicated.
[KSiteTV]
---
American Horror Story: Asylum
As part of his ongoing effort to bring badassery to the world, Deadwood star Ian McShane will appear on the new season of American Horror Story as someone who "tussles" with Jennifer Lange's nun protagonist. [TV Line]
The eighth episode is reportedly "going to be a Christmas-related episode, with a Salvation Army Santa and parents shopping in 1962 with their children for Christmas presents." [SpoilerTV]
---
Arrow
Here's the description for episode four, "An Innocent Man":
ARROW RECRUITS LAUREL TO HELP WITH A CASE - Oliver (Stephen Amell) still hasn't figured out how to get back in Laurel's (Katie Cassidy) good graces, but a late night bonding session with Thea (Willa Holland) gives him the inspiration he needs. Looking into a suspicious murder case, Oliver realizes an innocent man, Peter Declan (guest star Lane Edwards), was framed by one of the targets on his list. As Arrow, he asks Laurel to help prove Declan's innocence. Meanwhile, Walter (guest star Colin Salmon) asks one of his employees, Felicity Smoak (guest star Emily Rickards), to look into a $2.6 million withdrawal that Moira (Susanna Thompson) made without his knowledge.
---
The Vampire Diaries
If "A FRAT PARTY AND A FLASHBACK TO 12TH CENTURY ITALY" isn't the most Vampire Diaries blurb imaginable, I don't know what is. Anyway, here's the full description for episode four, entitled "The Five":
A FRAT PARTY AND A FLASHBACK TO 12TH CENTURY ITALY - Damon (Ian Somerhalder) goes with Elena (Nina Dobrev) and Bonnie (Kat Graham) to visit Whitmore College, where Professor Shane (guest star David Alpay, "The Borgias") is taking over the Occult Studies classes formerly taught by Bonnie's grandmother. At a fraternity costume party, Damon takes advantage of the wild scene to give Elena a lesson in choosing a victim. Rebekah's (Claire Holt) attempt to buy Matt's (Zach Roerig) forgiveness falls flat, but she is intrigued by unexpected news from Klaus (Joseph Morgan). When Stefan (Paul Wesley) questions Klaus about Connor's (guest star Todd Williams) motives, Klaus reveals a long-ago encounter with a powerful group of vampire hunters, but it's Rebekah who delivers the information that stuns Stefan.
[KSiteTV]
Here are some images of the cast. [SpoilerTV]
---
Beauty and the Beast
Here's the description for episode four, "Basic Instinct":
VINCENT OFFERS TO SACRIFICE HIMSELF TO PROTECT CAT - Vincent (Jay Ryan) revives a 19-year old boy who was left for dead in a dumpster and rushes him to the E.R., where he remains in a coma. After Evan (Max Brown) declares that the boy's x-rays reveal a history of bone fractures, Cat (Kristin Kreuk) and Tess (Nina Lisandrello) question the father, Zachary Holt (guest-star Alex Carter), who worries that his son's ADHD and history of fighting and gambling might have gotten him mixed up with the wrong crowd. The detectives question Lois Whitworth (guest-star Madchen Amick), who owns the Westchester Polo Club where the boy worked. Lois is surprised to learn that her daughter, Clarissa (guest-star Jenn Proske), has been dating this young man. Clarissa claims that she ended the relationship because he was involved in illegal activities, but Cat and Tess suspect that there's more to her story. Meanwhile, Silverfox (guest-star Peter Outerbridge) and his Murifield agents track down Cat, and offer to tell her the truth about her mother in exchange for turning over Vincent, who they insist is a monster. Cat tells Vincent about her Silverfox encounter, and Vincent realizes that Cat might be afraid of him. JT (Austin Basis) wants them to flee, but Vincent refuses to leave Cat, instead offering to surrender to Silverfox in exchange for Cat's safety.
[KSiteTV]
---
Additional reporting by Amanda Yesilbas and Charlie Jane Anders.