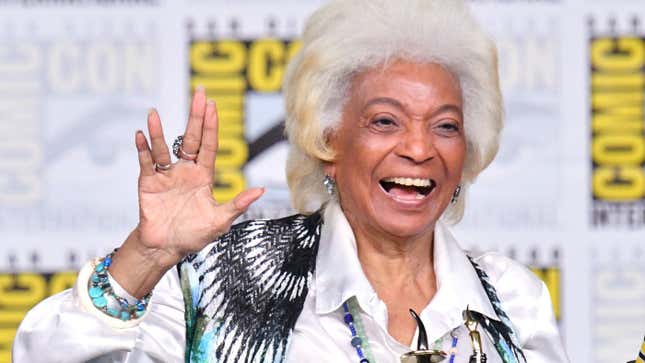 Star Trek star Nichelle Nichols is one of the most influential sci-fi actors of the 20th century, but the actress who played Uhura remains the focus of a legal battle over her finances, career, and well-being—one which continues to escalate, as more members of her family have stepped in to help.

Picard Museum at SDCC 2019
"It's positively devastating. I would like to see her made whole again. She's my big sister. I'm just proud of her. For all of these years, she's been our rock and our family after our parents died. She has been our matriarch," Nichols' younger sister Marian Smothers told io9 over the phone. "This is very devastating to us. I had to do something, we had to do something."
According to a court document posted on a new GoFundMe page, Nichols' son and legal conservator (as of January 2019) Kyle Johnson filed a countersuit against Gilbert Bell, the actress's disputed manager who's lived in the guesthouse on her property for about a decade. Among other items, the lawsuit alleges financial elder abuse, negligence, and unjust enrichment—including keeping cash from fans given at convention appearances, harming her reputation, and setting a monthly rent for himself of $300 on Nichols' guesthouse even though it could "command rents exceeding $2,500 [to] $3,500.00 per month." The lawsuit also includes an injunction, filed on behalf of Nichols, to have Bell cease contact and leave her property.
We reached out for comment to all parties, as of yet we've not heard back from Nichols' and Johnson's legal representation or Bell.
Speaking with io9 over the phone, Johnson said he's been living with his mother as a full-time caregiver since August 2018 and having Bell also living on the property has been "unpleasant." He said the lawsuit's goal is to get "justice" and hopes the discovery process will bring Bell's alleged actions to light—whether it's ones they feel they already know about or others that have yet to surface.
"What's happened to my mother has been rather extreme, and I can't be limited to a single thing. Indeed, having filed the suit, we're eager to begin our discovery process to uncover that—which not only we're aware of generally and then are seeking specifics, but what else there might be that we are not aware of," Johnson said. "Those are kind of, you know, lurking, lingering anxieties, that there's more stuff to find out than we even had an inkling of now. I don't know what that might be, but that is a concern. But hopefully, as they say, sunlight is the best disinfectant."
The GoFundMe was created by Smothers to help fund Johnson's legal battle and is seeking $100,000 for the countersuit and fighting a previous suit brought by Bell. Smothers told us that every living member of Nichols' immediate and extended family has come together to support this countersuit and that she started the GoFundMe to help with legal costs because Bell allegedly drained Nichols' finances. The GoFundMe claims that Bell has "taken financial advantage of Nichelle to the tune of well over a million dollars." When asked how that number was reached, Smothers wouldn't go into details but insinuated that Bell had pocketed some of her appearance fees.

The legal battle between Johnson and Bell has been going on for several years, with Nichols seemingly trapped in the middle. After evidence was presented in late 2018, the courts granted Johnson permanent conservatorship over Nichols' estate and signed off on a dementia diagnosis in early 2019. This current countersuit comes one year after Bell filed his own lawsuit against Johnson, claiming Nichols' son was trying to kick Bell and Nichols out of their homes so he could sell the property and put Nichols in an assisted living facility.

"Kyle has been trying to put her in a nursing home for eight years now," Bell told Express in 2018. "He wants to put her away and sell her home. But Nichelle made me promise many years ago, 'Whatever you do, please don't put me in a nursing home'. And I told her I wouldn't."
Smothers denied Bell's claim to us, saying that Bell would tell Nichols this as a way to keep her afraid of letting Johnson have access to her finances. Johnson also dismissed them, calling them "unreliable." Smother noted that the idea of putting Nichols in a nursing home was "the furthest thing from Kyle's mind" and that their goal is to keep the house—but that the situation might be complicated given how Bell has allegedly impacted her finances.
"That's how he managed to get such complete control over her. It's the constant—Kyle wants to do this to you. Kyle wants to take this away from you," Smothers said. "He understood that that was how he was going to be able to stay close to her and destroy Kyle's relationship with his mother."
Despite her reported medical condition, Nichols continued to make appearances in films and at conventions for years. Smothers said this was one of the things that outraged the family the most because it was putting her health at risk, and she confronted Bell about it on several occasions. Those appearances slowed down after Johnson was granted conservatorship. Nichols was set to officially retire this May with the star-studded Nichelle Nichols Farewell Celebration, but the event was delayed due to the pandemic.
When asked the hardest part about the experience, Johnson talked about the pain of watching his mother's health decline. He noted how it's a shared experience, one that millions of people have gone through, and that it's equally painful for anyone who's been through it with a parent of a loved one. Even though things are hard now, Johnson praised his mother and said he wouldn't change anything about how he grew up.
"My mother, I think is quite unique. I would never have traded my childhood and upbringing for anything other than what I experienced with my mother. I think that her vision and her insight, the decisions that she made as a young mother, were quite extraordinary, and how she envisioned the person that I would become by the decisions that she made about my upbringing," he said. "I feel that she did exactly the right thing, and that I am the child that she raised. So in that sense, I remain extraordinarily grateful for that time. I'm her kid, she's my mom. I guess she did a great job. I am quite pleased with the person that I am, and I think in large part due to her influence in making me that person."
This post has been updated to reflect comment from Kyle Johnson.
---
For more, make sure you're following us on our Instagram @io9dotcom.