At the professional level, the ultra-powerful DSLR is still mighty important, and with that in mind, Nikon is upgrading its beastly D4, with the D4s, a faster flagship shooter that's better than low-light than its older namesake. There's a lot to love about this camera. Here are the highlights.
Like its predecessor the Nikon D4S has a 16.2-megapixel, full-frame image sensor, but according to Nikon, it's been completely redesigned. The D4s also sports Nikon's latest Expeed 4 image processor. Together, the new processor and new CMOS imager combine to give the camera its most important spec bump: The D4S can shoot from ISO 50 all the way to a Hi-4 sensitivity of 409,600 (standard maximum: ISO 25,600) compared to the D4, which could shoot to 204,800 (standard maximum: ISO 12,800). In other words, you've got another stop of leeway with which push up the sensitivity without affecting image quality too much. In other other words you can count on your camera even if you push it hard in low-light conditions or if you just need to keep your shutter speed relatively fast.
Indeed, the D4S, like the D4, will take amazing photos. We have no doubt about it. Some two years after the D4 was announced, it remains one of the top cameras on DXOMark's sensor rankings. It should be noted, though, that ALL of the cameras above the D4 in the rankings are cheaper. If you're going to spring for the D4S, it will be for its machine gun-like firepower, and on this front, it's pretty similar to its predecessor: The D4S can shoot 11 frames per second at full-resolution. Nikon paints this as an improvement, even though the D4 could shoot 11 fps as well. The difference is that the D4S has 30-percent more processing power than the D4, enabling the camera to use autofocus and autoexposure on each of those 11 frames. The camera can shoot a hefty 200 full-size JPEG frames before the buffer is full.
G/O Media may get a commission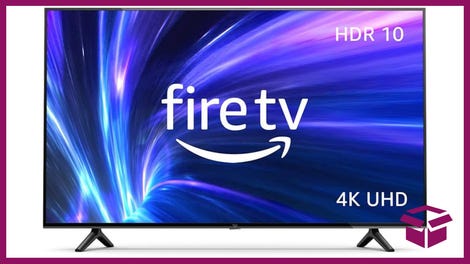 42% Off
Amazon Fire TV 50" 4K Smart TV
Impressive as the improvements are, Canon continues to have the advantage on sheer muscle: The 1DX shots 12 fps at its high-speed setting and 14 fps at it super high-speed maximum. Nikon has the edge on the buffer, with Canon choking at a maximum of 180 full-size JPEG frames.
In terms of other features, we're very curious to know if Nikon made any improvements to its video recording powers because the D4 left a lot to be desired there. Canon continues to be the leader, especially on important factors like low-light video. The D4S is the first professional DSLR that can shoot 1920 x 1080 footage at up to 60 fps. This allows you to slow-down your footage in post-production for some gauzy effects. Still, Nikon didn't have much to say about an improvement to overall video quality. You will be happy to know that there's a fancy new timelapse mode that has smooth exposure transitions.
The D4s' hardware is very similar to the D4's, although the ergonomics have been very slightly modified. It's a little slimmer in the horizontal grip, and there's a cozy new thumb rest on the vertical grip.
The bad news: The Nikon D4S will cost $6500 when it drops on March 6th. You can also expect the price to come down on the current flagship D4. Is the D4S worth an upgrade? It's easy to say no, but then again, this is a camera for uncompromising photographers. What's it worth to you?