Every single moment of the Sochi Olympics is documented in minute detail. Here's how the AP and Getty Images, two of the biggest photo agencies on the scene, get their incredible photos from the Olympics to the United States, faster than you can microwave a bag of popcorn.
This past Tuesday in Sochi, American snowboarder and defending gold medalist Shaun White attempted a double cork as his third trick during his run in the men's halfpipe final, a last-ditch to improve his score. He bungled it, landing on the edge of the pipe, and nearly taking a massive fall.
Shaun White botches his landing in the halfpipe final, showcasing the style of two different photo agencies. Andy Wong/ AP Photo and Cameron Spencer/ Getty Images.
White came in fourth and walked away without a medal in his best event. But the moment led to one of the most memorable shots of the Olympics so far. Some of the best sports photographers in the world captured the violence and drama of the split-second impact better than any video could. White's board, looking like it might snap in half. The American flag bandana startled out of place. White's mouth agape at the shock from the impact. This is what it looks like when you fail to defend your gold medal.
G/O Media may get a commission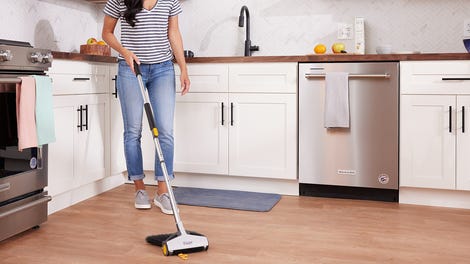 BOGO 50% Off
Flippr - BOGO 50% Off
Less than three minutes after White hit the half pipe, the photo was on servers all over the world, ready for download by art directors and editors. We spoke to Ken Mainardis, Getty VP of sports imagery, and AP deputy photo director Denis Paquin about how the two huge photo operations make it happen.
---
The need for speed
The Getty Images team gets ready to go for the Olympics opening ceremony at Fisht Olympic stadium. Michael Heiman/Getty Images.
Everything about the Olympics is fast, and the photographic games going on behind the scenes are no different. "It's all about speed," says the AP's Paquin. "It's really important to get images out almost as quickly as you would see them on TV."
That mandate's a tall order for photo agencies. The AP says it's filing some 2000 Sochi photos per day to its wire, and Getty Images and Reuters told me that each agency's photographers will shoot a combined 1 million frames over the course of the games.
Pavel Kolmakov of Kazakhstan competes in the Men's Moguls Qualification. Photographers at Sochi don't just get the shot in perfect focus. They also have to try to compose photos perfectly as well. Mike Ehrmann/ Getty Images
According to Mainardis, digital photography has completely changed the way the Olympics are shot. Intuitively, we know this, but when you start to unpack numbers, your brain goes numb.
Sochi is Mainardis' 10th Olympics, and when he started out as a young assignment editor at the Atlanta games, photo operations were entirely analog. Film had to be run back to darkrooms, where editors would wait 2-3 hours for photos to be developed—and that's for expedited, prime-time events. For less interesting competitions, it could take 12 hours for rolls to make it though the chemical baths. On a busy day for Getty before digital, the agency was able to move between 100 and 150 photos a day.
To put the change as starkly as possible, Mainardis offers this comparison: "Divide 1 million photos by a 36 exposure roll of film." By analog standards, today's Olympic photo agencies are plowing through nearly 28,000 rolls apiece. The powerhouse professional cameras photographers use these days, like the Canon EOS 1DX, are capable of shooting up to 14 frames per second. That's a finished roll of film in under three seconds.
Technician Clement Caplain from Getty Images France tests the internet in
the Adler Arena in Sochi, Russia.
Dealing with the huge volume of photos involves setting up totally new infrastructure, which is planned long in advance of the games. For Getty, the technical planning started in a meeting with Olympics officials four years ago, during the winter games in Vancouver. The AP toured the Sochi grounds scouting for shooting positions a full two years ago. Both agencies had teams on the ground over a month ago laying ethernet cable.
For its part, Getty set up a single network connecting the 11 Olympic venues. Mainardis estimates that Getty lay down some 22 kilometers of ethernet cable so that most of its 37 photographers could be directly wired in, assuming they're in what Mainardis calls "safe" positions. In a few trickier "gamble" shooting positions, such as some on the Alpine course, the spots are too remote to run cable all the way down the mountain, in which case the photographers are connected wirelessly to a nearby base station that's plugged into the network.
Goalkeeper Jessie Vetter and Kendall Coyne (26) of the United States look back at the puck as Meghan Agosta-Marciano, left, of Canada celebrates. Somehow, photographers have to capture the exact fraction of a moment. Matt Slocum/ The Associated Press.
It's worth taking a moment to admire the hardcore Olympic photographers who wake up long before sunrise in some cases to ski out to their locations. The standard kit for a Getty photographer includes four camera bodies each outfitted with different lenses: 16-35mm f/2.8, 24-70mm f/2.8, 70-200mm f/2.8mm lens, f/300mm F2.8 lens. As you can see in the image below, Getty photogs travel with a mixture of Canon and Nikon cameras bodies, while the AP is an entirely Canon shop. Without fail, these photographers are using either Canon 1Ds or Nikon D4s. Unlike most disciplines where you could get away with something other than flagship DSLRs, sports photography requires the 10-15 fps speed that you get at the top of the line. That's a lot of gear.
The second a photographer fires the shutter on a camera, the resulting image—a high quality JPEG, not an uncompressed RAW file—is transported by ethernet to Getty's central editing office in about 1.5 seconds. There, a team of three editors processes the photo. The first selects the best image and crops it for composition; the second editor color corrects; and the third adds metadata. The whole editing process is done in 30-40 seconds. Once the last editor is done, the image is blasted to the world. It takes about 90 seconds for the images to travel over redundant 100 Mbit/s dedicated lines to Getty's data servers in the the United States.
With some minor variations, the AP process is very similar. Paquin says he prefers to have editors on site at each of the venues so they can give photographers notes and really get to know what they're looking for. But the end result is the same: Photos delivered to clients at an average clip of three minutes or less.
The whole process leaves very little room open for error. "You're always at the risk of something happening with the elements, or a snow tractor running over your cables," says Mainardis, "but our technicians can deal with that pretty easily."
---
The competition
Getty Images' Lars Baron is a specialist in Ski Jumping and Biathlon. Here we see his rig with two Canon and Nikon bodies. The action happens too fast for photographers to switch lenses so every necessary focal length is ready to go with its own body.
Take any two photos from the AP and Getty in the middle of the competition, and they'll looks fairly similar. Everybody is a pro, so when Shaun White botches his landing, everybody gets the photo. "It's a technical shot," says Paquin, "But there's nothing special about it."
Still, while agencies like the AP and Getty are competitors in name, they're serving different clientele, and that plays out in how they shoot the games. The former is primarily serving news outlets all over the world, and according to Paquin, the goal is to ensure that it can provide customers in each country with a usable image of each of its local superstars. Getty Images, on the other hand, isn't just serving editorial customers, but also commercial clients. Its biggest client of all is the International Olympic Committee, for which it's the official agency. Getty is charged with documenting every last moment of the Olympics with sleek work advancing the goals of the IOC, which are of course, making the Olympics look a really cool spectacle that's worth the money.
Magnus Hovdal of Norway on the runway before a jump. Photographers at the Olympics are the best in the world. Julian Finney/ Getty Images.
In other words, while both the AP and Getty are using similar technology to shoot and process photos—from ceiling-mounted robotic rigs to editing software—they're actually getting very different results when you drill down into them.
Getty's photos tend to have the gloss you might expect from a photo that would be used in a full-page magazine advertisement. A skier flying down the mountain will be cropped so that there's very little in the way of distracting outside elements. Additionally, Getty's editing teams are working behind-the-scenes to create flashy, post-produced work, like photos that show the full process of a snowboarder's trick in the air. The company will even be producing nearly infinitely zoomable gigapixel images for its clients.
"We're more interested in telling stories," says the AP's Paquin. The news agency doesn't put up quite as many photos as Getty, but it certainly does get the coverage it needs to serve its clients—no matter where those clients happen to be. Browsing the wire, you notice that the AP's photos also have a grittier, newsier look about them. They tend not to be as closely cropped so that you can see spectators. It's a look that's both big picture and unflinching; you're more likely to see the imperfection of a skier's form or the strain in figure skater's face than you are from the polished photos produced by Getty.
---
Room for creativity?
Danny Davis of the United States competes in the Snowboard Men's Halfpipe Finals. This image was spliced together from size exposures in post production. Mike Ehrmann/ Getty Images.
There are thousands of moments like Shaun White's collision in every Olympics. Each lasts a fraction of a second, so there's almost no time for the photographers to take their eyes off the action at hand. Still, both Paquin and Mainardis say that they're constantly hoping to get that shot that says what all of the canned photos can't.
Mainardis says they count on his team to get the moments of peak action on clean backgrounds, but that's just the bare minimum. "I'm pushing my photographers to innovate," he says, "And they've never let me down yet."
This image uses digital filtering for a cool, creative effect that wouldn't fly by traditional journalistic standards. Robert Clanflone/ Getty Images.
As for the AP."You always get the jump, you always get the react," says Paquin. Later he added, "I'm always asking them to look for something a little different... A little detail shot." Anything to help covey the drama of the games.
David Wise of the United States gets air during men's freestyle skiing half pipe training at the Rosa Khutor Extreme Park. Andy Wong/ AP Photo.
Just as plans were being laid for the Sochi games in 2010, battle plans are already forming for 2018, with much the same attention to detail. The only difference? Bigger, faster, more. Not unlike the games themselves.
Kelly Clark of the United States trains for the women's snowboard halfpipe competition. In downtime between competition, photographers try to get dramatic photos that tell a bigger story about the Olympics. Jae C. Hong/ AP Photo.
France's Marie Marchand-Arvier crashes into safety netting during the women's downhill competition. Charles Krupa/ AP Photo.
Top image shows Getty Images' Bruce Bennett ready to shoot ice hockey in Sochi. Courtesy of Getty Images.