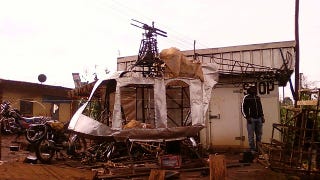 Flying a helicopter is just slightly less difficult than building one from scratch. Didn't stop these guys from giving it a shot—both in the building and the flying. Our friends at Oobject. com have assembled nine of the best homemade whirley-birds.
If these choppers get your propeller spinning, you'll love these 17 Found-Object Chandeliers, or these things made in urban garages, or some drug-smuggling subs!
Three Somaliland nationals build Homemade helicopter
Simcopter, Mexico
A homebuilt helicopter, combining a Simca car with a 300 horsepower Lycoming aircraft engine.
Zimcopter II, Zimbabwe
Zimcopter chopper made from aluminum sheets and an engine cannibalized from an old French Citroen motor vehicle.
<img src="
" width="391" height="278" /
Homebrew Vietnamese Farmers Helicopter
Home-made helicopters in northern Nigeria
Homemade Helicopter Kumbo Cameroon
Remains of homemade helicopter in Zimbabwe
Chinese Farmers Homemade Helicopter
Forbidden to fly it by the Chinese government. It runs on a motorcycle engine.
Chinese Farmer Builds Working Helicopter from Scrap