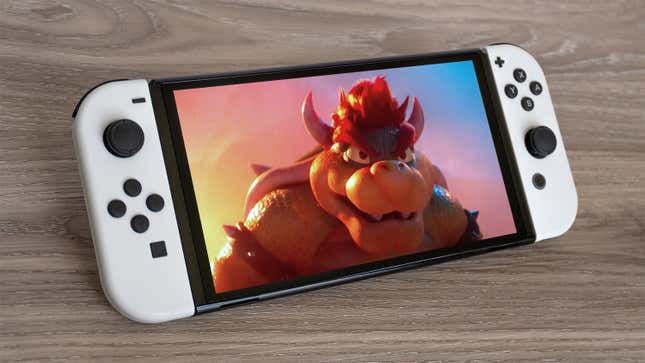 Gary Bowser, a public face of the aftermarket console modding scene, unwittingly became one of Nintendo's most hated antagonists. Now after more than a year in the proverbial federal dungeons, Bowser finally has his shot at freedom. Though even as Bowser looks to return home to Canada (and not some massive castle in the sky), Nintendo will continue to hound the ex-modder for nearly $10 million in court-ordered restitution.

What Was Your First Experience with Super Mario Bros? | io9 Interview
Back in 2020, Bowser (no, not that one) and fellow Team-Xecuter modding community members Max Louarn and Yuanning Chen were indicted for allegedly jailbreaking and selling major game consoles so they could play pirated versions of popular games. Nintendo had been hounding the modding team for years as it sold hacked versions of the Nintendo Switches and 3DS. Feds, as well as Nintendo, wanted to throw the book at Bowser and put him in jail for nearly five years, though a judge settled for a little over three years.
As first reported by TorrentFreak, the feds put Bowser on the path to release more than two years short of his original 40-month sentence in late March. According to an interview with gaming streamer Nick Moses, Bowser said he had been moved to the Tacoma Northwest Detention Center in Washington while the federal government prepared to send him back home to his family in Toronto, Canada.
Bowser, a Canadian national living in the Dominican Republic at the time of his arrest, pled guilty to selling and creating console chips back in 2021. He was sentenced in 2022. Prosecutors claimed the overall console hacking and modding operation cost Nintendo and other console makers $65 million over several years. He was sent to the Federal Detention Center SeaTac, a federal penitentiary in Seattle.
The interview was published Friday, and it remains unclear if Bowser has managed to return home yet, though the former console modder said the follow-up detention center was far different than his previous time in prison, which included work in the prison library and time spent late at night on suicide watch for other inmates. Bowser said he was supposed to learn this week how the Immigration and Customs Enforcement planned to handle his transport back to Canada.
Once he's in Canada, the former member of the Team-Xecuter crew said he plans to file for medical coverage and welfare while he looks for work that takes in his "expertise." According to his original plea agreement, Bowser has to pay $4.5 million in restitution to Nintendo of America. A separate civil suit Nintendo brought against Bowser also mandates Bowser pay Nintendo of America $10 million. Bowser told Moses that so far, he's paid about $175 to Nintendo from his meager salary working in the prison library. He added that the agreement would take close to a quarter of his gross monthly income.
Prosecutors called Bowser a "prominent leader" of the hacking team modding these consoles, though his online handle GaryOPA was more known as the person handling the MaxConsole website. The site itself traded in hacking tools and hacked console hardware. Bowser's lawyers previously argued for much less time, saying he was only a small cog in Team-Xecuter's modding scene and reaped only $500 to $1,000 a month. The attorneys said Bowser was "facing the brunt" of the federal government's indictment, especially since other alleged modders like Louarn were not extradited to the U.S.