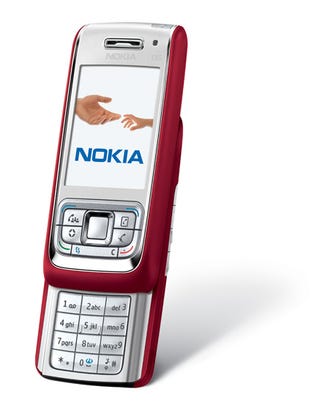 While the Nokia E65 is already available in some markets, the company rolled it out officially for the rest of us today in Barcelona, and we're liking its stylish good looks with that red color and its slider form factor.
Although you're not going to be quickly typing out e-mails on this one as you would on its E61i QWERTY brother, it's made easier to use with One Touch keys on its front cover, letting you access your contacts database, hit mute when you want to talk behind someone's back, and then you can assign your most used application to its "My Own" key.
Of course, there's a 2-megapixel camera on board, and then there's a microSD slot to store even more stuff. It's available in either brown or red with silver trim, and it should run you around $450 without a contract.
Nokia E65 [Feetup]