Marian Johnson-Thompson is an environmental health scientist. She's also a resident of North Carolina. She retired from the National Institutes of Health in 2008, marking an end to a career spent actively protecting human lives—or so it seemed at the time.
Now, she's fighting for racial equity and better environmental health protections on a new statewide board that could inspire similar ones across the U.S.
Johnson-Thompson is the vice-chair for the North Carolina Department of Environmental Quality's Environmental Justice and Equity Board, which the state announced Wednesday. The board's 16 members—all of whom come from different parts of the state, as well as different racial backgrounds—are supposed to work directly with DEQ Secretary Michael Regan. They'll advise him on how the department's policies can reflect "fair and equal treatment and meaningful involvement" of all people throughout the state—regardless of race, class, or religion.
"We are all very committed people who are passionate about this," Johnson-Thompson told Earther. "We'll play our role in ensuring our issues are addressed, but then we have those people in the communities behind us that will be pushing us, as well."
G/O Media may get a commission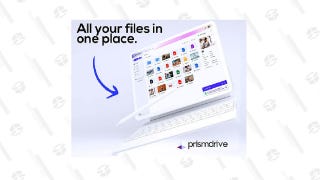 Save 97%
Prism Drive Secure Cloud Storage: Lifetime Subscription
The communities the board is looking out for, in particular, include people the state has historically underserved. North Carolina has a long history of treating the poor and people of color unfairly when it comes to pollution. In fact, the environmental justice movement as we know it—a fight against pollution and racist decisions that result in toxic substances in the backyards of black and brown and, often, poor families—found its footing in North Carolina.
Let's rewind to the early '80s in Warren County, North Carolina. More than 500 people were arrested in September 1982 as they organized a sit-in against a proposed landfill that'd bring soil contaminated with polychlorinated biphenyl, also known as PCBs, into a predominantly black community. The National Association for the Advancement of Colored People got involved. Those who were arrested during the sit-in included not only environmentalists but civil rights activists and even a congressman. This protest forged a key moment where environmental rights became a matter of civil rights.
And, for the first time, the entire nation was watching.
The sit-in didn't stop the landfill from happening, but it did make visible the plight the community was facing. And it created an opportunity for others to rise up and say, "Hey, that's happening over here, too."
The events even piqued the government's curiosity: A year later, the U.S. General Accounting Office published a landmark study that found such hazardous landfill sites are disproportionately located near black communities. By 1992, former President Bill Clinton issued an executive order directing all branches of federal government to include environmental justice in their decision-making.
That was more than 30 years ago, and there's still a lot of work to be done.
"Based on the fact that we've already spurred the environmental justice movement," Johnson-Thompson said, "we believe that [the board] can serve as a model" for how to move the needle even further.
Now, this state board isn't exactly the first of its kind. Earlier this year, California launched a Bureau of Environmental Justice under the attorney general's office. On a more local scale, the Racial and Environmental Justice Committee in Providence, Rhode Island, was effective in getting the city to think more equitably about how to formulate a plastic bag ban.
Still, North Carolina creating this kind of entity? It's a big deal. And this news comes on the heels of a court decision last week that awarded $50 million to a community that's been dealing with pollution from the hog industry that leaves the air reeking of sewage. That's just one problem in the state. There are also Native American tribes, like the Lumbee, who are trying to stop a 300-mile long natural gas pipeline that they worry could contaminate their water and land. These are the types of fights the new board could amplify.
"Unless those areas—of water, air, and land—are habitable and clean, we won't, as a group of North Carolinians, be able to live a high-quality life," said Johnson-Thompson.
Nakisa Glover agrees. She's the climate justice fellow at the Hip Hop Caucus, a national organization that takes on issues around environmental justice, and she also founded her own solutions-oriented environmental nonprofit, SOL Nation. She lives in North Carolina and is impressed with the birth of the board.
"Many of the people on this board have firsthand knowledge of having done the work," Glover told Earther. "They have a long track record and history and commitment to seeing justice in this space, and that's very encouraging."
She hopes that this move is more than a symbolic gesture. The underserved residents of North Carolina need somewhere their voices matter. They need representation, especially in this era of whack federal regulation and scandal after scandal within the Environmental Protection Agency.
"Climate is a condition of our land, our air, our water, and our people," Glover went on. "Understanding that, being able to center the people in the conversation, is part of moving toward solutions."
These days—if the current strategy of President Donald Trump's administration is any indication—it looks like solutions will be coming from the state-level. If states don't step up, their residents will be in for a long and very treacherous next few years.