Can't wait for Force Friday, the event where Hasbro has talked retailers into opening their doors at midnight so people can purchase the first action figures and merchandise of The Force Awakens? Well, good, because Maker Studios is giving people a sneak peek of the toys—in an 180hour, international, completely insane unboxing video.
Let's just go through the press release together, okay?
Star Wars: The Force Awakens products are set to be unveiled in the world's first ever global live toy unboxing event. Unfolding over 18 hours in 15 cities and 12 countries, the event will see highlights from the range of epic merchandise revealed in a rolling New Year's Eve style celebration featuring top digital stars from the Maker Studios network.
I have literally never heard of Maker Studios before this press release, so I checked out their "shows" and discovered the only name I even recognize is PewDiePie, who isn't involved in this thing. So I have my doubts about these "top digital stars."
"Star Wars toys have always played an important role in how our fans interact with the saga," says Lucasfilm President Kathleen Kennedy. "They've inspired multiple generations to relive the experience of the movies and to create new adventures all their own. These spectacular Star Wars: The Force Awakens products will continue that tradition."

Kicking off in Sydney, Australia on the morning of September 3 and continuing through Asia, Europe, Canada, and North and South America, selections from the new toy line will debut to global fanfare leading up to retailers around the globe opening their doors at midnight.
G/O Media may get a commission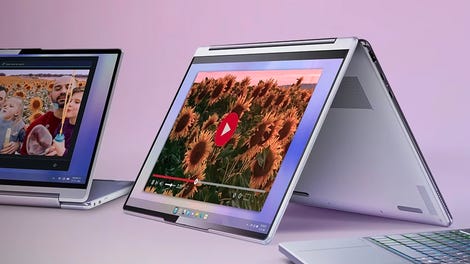 up to 70% off
Lenovo Spring Clearance
"Over the course of 18 hours, some of Maker Studios' biggest stars will each be unboxing a new toy from the Star Wars: The Force Awakens product line in a different city around the world and sharing the experience live on YouTube," said Leslie Ferraro, President, Disney Consumer Products. "We've seen tremendous excitement for these new products and can't wait to see the global reaction from the Star Wars fan community."
So there are 14 separate "stars" who involved in this thing, and if they each get to open one toy, that means... well.. it means these people are going to open 14 toys over 18 hours. That sounds like misery. Also, why the hell is are these things taking place internationally, when it's going to be a video of someone opening a package? Does the fact that someone lives in Paris going to make a video shot in their living room any more interesting? Of course not.
The Star Wars YouTube channel will host the live stream, which kicks off with the first unboxing in Sydney, Australia at 7:45 a.m. local time on Thursday, Sept. 3 (5:45 p.m. EDT on Wednesday, Sept. 2), with the grand finale at Lucasfilm in San Francisco at 8 a.m. PDT (11 a.m. EDT) on Thursday, Sept. 3. Each of the 15 locations will reveal a new product inspired by Star Wars: The Force Awakens.

These "unboxing" videos will feature online personalities sharing the excitement of opening the new Star Wars: The Force Awakens toys. Unboxing videos have captivated millions of Internet viewers and continue to grow in popularity — 18 of the top 100 most viewed YouTube Channels worldwide are dedicated to toys and toy unboxings. These 18 channels accounted for 8.1 billion views in Q1 2015.
Now you just sound desperate, dude.
"We're excited to be part of this first-of-its-kind initiative," said Chris M. Williams, Chief Audience Officer, Maker Studios. "The unboxing world continues to expand rapidly as audiences around the world connect with digital creators who share their passions. This shared fandom helps attract billions of monthly views and consistently puts the genre at the top of the YouTube charts."
"The unboxing world"? This isn't a grassroots movement, it's just people opening things on camera.
The global event will incorporate traditional toy unboxers such as the popular EvanTubeHD, channels featuring families such as Bratayley, lifehack specialists such as ExpCaseros, gamers such as AlexBy11, and Star Wars fans from around the world like Chris Pirillo who bring with them a broad audience and appeal.
There are "traditional toy unboxers"? Does that mean there are iconoclast, unorthodox toy unboxers? Do these unboxing punks open things in a different way? This is all nonsense.
To be fair, I don't understand the appeal of watching other people opening packages, so maybe there's a bunch of you who are really looking forward to watching people open shit for 18 hours. Maybe the people named above are unboxing superstars and you're an unboxing groupie. Maybe this is the Super Bowl of unboxing things, and you're going to make official "Team Traditional Toy Unboxers" t-shirts or something.
If so, more power to you. But I'll wait until someone posts pictures of all the toys out of their packages, thanks.
---
Contact the author at rob@io9.com.