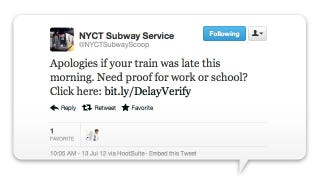 In large cities, "The subway ate my homework" is about as common an excuse for being late to work as the ol' doctor's appointment. No one actually believes it. Luckily, New York's MTA has an online system that gives you city-certified proof you're telling the truth. Problem is, it's slower than the city's trains.
Here's what the system returned this morning, after the MTA"s Twitter account tweeted out the system:
REF. NUM: 138797
INPUT DATE: 7/13/2012
NEW YORK CITY TRANSIT HAS RECEIVED YOUR DELAY VERIFICATION REQUEST
Your delay will be researched, and you can expect a response from us as follows:
By E-mail: 21 days

We apologize for the inconvenience you experienced.
Thank you for submitting your request.
Please do not reply to this message as this Mailbox is not monitored.
Emphasis added. Thanks, MTA, for providing that proof BASICALLY A MONTH FROM NOW AFTER YOU ALREADY GOT ME FIRED OR PUT IN DETENTION. This should do wonders for the MTA's reputation as habitual incompetents with tardy or outright truant services and no concept of convenience for the average commuter. [Twitter]