Everyone wants free internet, and when deployed effectively, it can be immensely valuable. But rarely is it "deployed effectively." Case in point, New York City's municipal wi-fi brings blazing fast internet speeds free of charge, but civil liberties experts say it comes with "too many strings attached."
LinkNYC is a citywide wi-fi system with plans for thousands of kiosks placed throughout all 5 boroughs. The speeds are blazing fast, and they replace outdated payphones with gleaming silver obelisks of our internet-connected future. So far, so good. But when you dig deeper into LinkNYC's terms and conditions, things get concerning says the NYCLU, a civil liberties group based in the city.

The potential problems here are many, but it really comes down to one issue: LinkNYC, powered by a company called CityBridge, is ambivalent about protecting personal ID information. As NYCLU points out, CityBridge only promises to make "reasonable efforts" to retain your data no longer than 12 months and if the government comes knocking for your information, CityBridge will only make "reasonable attempts" to let you know it's happening.
It's kind of a nightmare when any company keeps your data or ID, but it's especially horrifying when a public service does it For the passing tourist, the data retention is less of a concern. In low-income households where LinkNYC may be the only access point to the internet, however, people's ID info will be collected and retained indefinitely. That sounds bad! And remember, Google now owns the major players behind the new LinkNYC wi-fi system and plans to bring the tech to more cities, so the mini privacy drama playing out in NYC could quickly become a national concern.
G/O Media may get a commission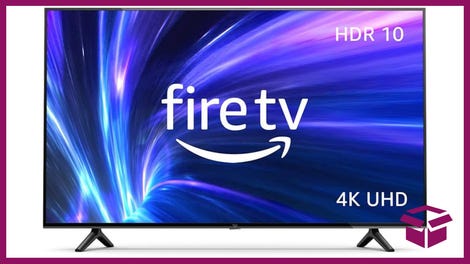 42% Off
Amazon Fire TV 50" 4K Smart TV
"We fully support free wi-fi for New Yorkers," Mariko Hisone, a senior staff attorney with the NYCLU, told Gizmodo. "The idea is to have a service that people can rely on everyday. For those people, this company is going to be retaining your browsing history."
According to the NYCLU, the city's responded to the criticism saying that law enforcement do not have direct access to information and environmental sensors, that getting LinkNYC data would still require a subpoena, and mentions that the system takes steps to protect data, including encryption services to protect against would-be hackers. It's also said that its privacy policy is subject to change and will work to solve legitimate concerns, according to the Mayor's office.
For the sake of concerned civil liberties advocates, let's hope it does.
Update: Here's LinkNYC's full response. Seems hopeful.
"New York City and CityBridge have created customer-first privacy protections to ensure our users' personal information stays that way – personal. We believe our privacy policy is the best way to protect New Yorkers and LinkNYC users while they safely and securely enjoy free superfast Wi-Fi across the five boroughs. We will continue to work to ensure legitimate concerns are addressed."