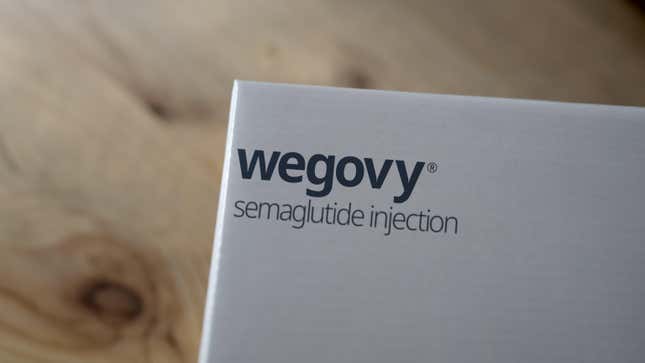 Wegovy, the popular obesity treatment, also seems to offer heart health benefits. On Tuesday, Novo Nordisk reported the results of a comprehensive clinical trial evaluating the drug's efficacy in preventing heart attacks and strokes in overweight or obese individuals. According to the company, Wegovy cut the risk of major cardiovascular events by 20% for up to five years when compared to a placebo.
Meet Microsoft's New Surface Laptops
The active ingredient in Wegovy is called semaglutide. It's a synthetic version of our body's GLP-1 hormone, which plays an important role in regulating our metabolism.
Among other things, GLP-1 drugs promote insulin secretion. For over a decade, these drugs have been approved to help manage type 2 diabetes, including Novo Nordisk's Ozempic, which similarly contains semaglutide. But GLP-1s seem to consistently reduce people's hunger and cravings as well, making them appealing candidates as potential weight loss treatments. In June 2021, Wegovy was approved by the Food and Drug Administration for obesity.
Many experts have heralded Wegovy's approval as the first in a new era of obesity treatments. In clinical trials, users have lost around 15% of their baseline weight—results that far surpass the average weight loss seen with past obesity drugs.
One lingering question about these drugs, however, is whether their benefits extend any further than weight loss in people without diabetes. Since 2018, Novo Nordisk has been running a study explicitly meant to answer that question: the Semaglutide Effects on Heart Disease and Stroke in Patients with Overweight or Obesity, or SELECT, trial. And those findings are now finally here.
The SELECT trial enrolled more than 17,000 adults across 41 countries. Volunteers were overweight or obese individuals with no prior history of diabetes but who had pre-existing cardiovascular disease and were over the age of 45. They were randomized to receive the highest dose of Wegovy (2.4 milligrams delivered via weekly injection) or a placebo, in conjunction with standard care. For up to five years, the volunteers were monitored for major heart problems, including cardiovascular-related deaths and nonfatal heart attacks and strokes.
Across the board, people taking Wegovy were less likely to develop these issues compared to those on placebo. Overall, the risk of any major adverse cardiovascular events was reportedly reduced by 20% in the Wegovy group.
"People living with obesity have an increased risk of cardiovascular disease but to date, there are no approved weight management medications proven to deliver effective weight management while also reducing the risk of heart attack, stroke or cardiovascular death," said Martin Holst Lange, executive vice president for Development at Novo Nordisk, in a statement released Tuesday. "SELECT is a landmark trial and has demonstrated that semaglutide 2.4 mg has the potential to change how obesity is regarded and treated."
The trial's findings have yet to be evaluated in full by outside scientists, which is an important part of the scientific process. But the company has said that it will soon present the results at a scientific meeting later this year. Novo Nordisk also plans to seek regulatory approval for a label indication expansion of Wegovy, which would officially recognize its heart heart benefits.
These findings, assuming they hold up, will likely have bigger implications beyond Wegovy itself. There are other similar drugs in the pipeline, including treatments that seem to provide even greater weight loss on average. So these drugs could also potentially be useful for cardiovascular disease. Perhaps most importantly, though, is the likelihood that weight loss itself can have concrete health benefits. Many studies have long suggested as much, but it's been difficult to directly prove such a connection, largely because sustained and large-scale weight loss has historically been hard to accomplish outside of surgical approaches.
There do remain some concerns about the future of these drugs. GLP-1s are known to cause unpleasant side effects, particularly nausea, vomiting, and other gastrointestinal symptoms. These side effects are typically mild to moderate and wane over time. But there is limited evidence that GLP-1s could raise the risk of rare but severe complications, or that some risks might only emerge from long term use. For now, though, the safety profile of these drugs appear to be well-balanced against their risks, at least in those approved to take them.