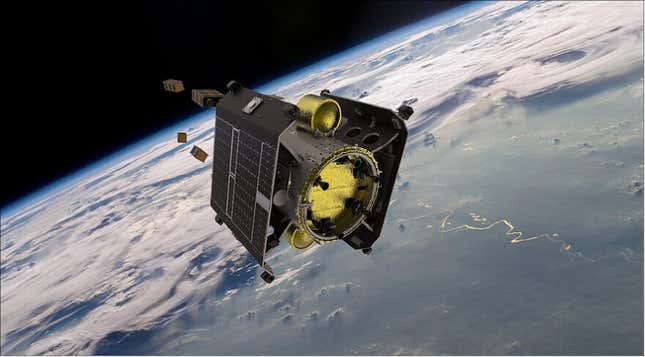 ODIN Space has passed a major milestone by powering up a super-sensitive experimental in-space sensor. Once fully developed, a dispersed network of these sensors could be capable of tracking hypervelocity objects no larger than a grain of sand.
Coastal Animals Are Thriving on Plastic Pollution Out in the Pacific Ocean | Extreme Earth
The sensor technology, installed on the D-Orbit ION satellite, launched into space on June 12 as part of SpaceX's Transporter 8 mission. As ODIN Space announced in a June 27 press release, the demonstration device is now pulling data from its immediate surroundings. The device is currently sensing background vibrations, but an upcoming test, in which the sensor will track objects measuring less than one-tenth of a millimeter in size, is planned for the coming weeks, as SpaceNews reports.
"We're excited to announce that our sensor has successfully powered up and is transmitting data," James New, CEO and co-founder of ODIN space, said in the press release. "It's an amazing achievement for our team," he added while thanking the U.K. Space Agency, the European Space Agency's Business Incubation Center, and others for their support.
Space debris, whether large or small, represents an escalating threat to spacecraft and satellites in low Earth orbit. Current technology allows us to track objects larger than 4 inches (10 centimeters) in size, but the overwhelming majority of space debris is too small for conventional detectors. Tiny pieces of space junk, whether metal shards or flecks of paint, may seem harmless, but they're frightfully dangerous. Even sub-millimeter objects the size of a grain of sand—zooming around the Earth at speeds reaching 4.5 miles per second (7.7 kilometers per second)—can inflict bullet-like damage when striking other objects.
ODIN Space, founded in 2020 and based in London, U.K., is seeking to "fill that critical gap in the space sector," as it explained in the press release. The company's tagline states its mission clearly: "Mapping invisible orbital debris." ODIN Space is now moving ahead with this project, as it has successfully performed its first space-based qualifications tests, and also tests to confirm healthy integration with third-party satellites, namely D-Orbit's transfer vehicle.
Indeed, tests in the lab are one thing, but pulling off tests in space is quite another. The sensor technology is currently configured to pick up even the most subtle vibrations coming off the host D-Orbit satellite, with an integrated team confirming the recording of acoustic signals.
"The data captured by the demo sensor marks an important step in creating vital information about [sub-centimeter] space debris," ODIN explained in its press release. "It brings the company a step closer to producing its fully commercial sensor, capable of mapping debris between 0.1 mm and 1 cm, measuring its size and location."
Here's how it works: As the host satellite orbits Earth, tiny bits of space debris will perforate substrates found on the sensors, which consist of three impact-detection gates (IDGs). By recording and analyzing the resulting vibrations, the sensors will provide information about an object's size, speed, and trajectory.
The company plans to deploy hundreds of sensors on third-party satellites, resulting in a network capable of mapping and characterizing the sub-centimeter debris environment to expose possible risks. That's a big deal, as space debris could become a billion-dollar problem by 2030, according to ODIN Space.

For more spaceflight in your life, follow us on Twitter and bookmark Gizmodo's dedicated Spaceflight page.