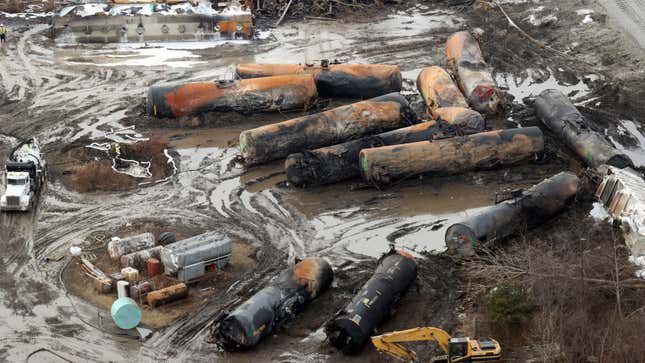 Videos of the Norfolk Southern Railway train that went off the tracks in Northeastern Ohio show that the train was on fire miles before it derailed on February 3 and caused an ongoing hazardous chemical disaster.
Two videos obtained by Pittsburgh Post-Gazette, taken by security cameras at an equipment plant and a processing plant in Salem, Ohio, show flames flickering out from underneath parts of the train about 20 miles away from where it derailed in East Palestine.
A hotbox detector by the Salem processing plant scans the temperatures of train axles as they roll by and are supposed to send out alerts if temperatures are too high. An alert went out shortly before the train derailed in early February, said Michael Graham, a board member of the National Transportation Safety Board, according to NPR. The NTSB has obtained data and audio from the derailed train to further investigate the derailment.
The U.S. Environmental Protection Agency said this weekend that rail operator Norfolk Southern Railway may be responsible for reimbursing the agency for the ongoing cleanup in East Palestine, the community closest to the derailment.

G/O Media may get a commission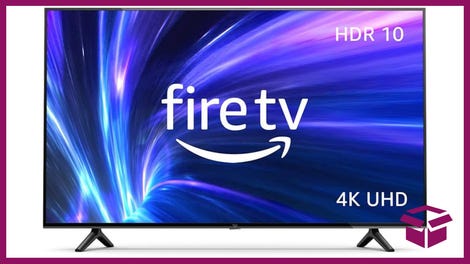 42% Off
Amazon Fire TV 50" 4K Smart TV
"EPA has spent, or is considering spending, public funds to investigate and control releases of hazardous substances or potential releases of hazardous substances at the Site," the EPA wrote in a letter dated Saturday, February 10. "Based on information presently available to EPA, EPA has determined that Norfolk Southern Railway Company (Norfolk Southern or "you") may be responsible under CERCLA for cleanup of the Site or costs EPA has incurred in cleaning up the Site."
The EPA also posted a document from the railroad operator listing the derailed cars and the substances those cars carried. "Cars containing vinyl chloride, butyl acrylate, ethylhexyl acrylate, and ethylene glycol monobutyl ether are known to have been and continue to be released to the air, surface soils, and surface waters," the EPA wrote in its letter to Norfolk Southern.
Vinyl chloride is used to make many plastic products; it's also a gas that can cause dizziness and sleepiness, according to the CDC. Long-term exposure is associated with nerve damage and cancer. The other substances carried by the train are concerning, too. Exposure to ethylene glycol monobutyl ether can cause eye and skin irritation, dizziness, and nausea.
On February 6, officials announced that they would conduct a controlled release of the hazardous chemicals to avoid a possible explosion. By Wednesday night, residents were told that they were could safely return to their homes. "Air quality samples in the area of the wreckage and in nearby residential neighborhoods have consistently showed readings at points below safety screening levels for contaminants of concern," a press release from Ohio Governor Mike DeWine said.
DeWine also said that Norfolk Southern Railroad hired an independent contractor to take "air quality samples and provide results at no charge to residents." But some residents remain wary of the health risks. Local resident Eric Whitining told The Washington Post that the air sometimes smells like swimming pool chlorine and it makes his eyes water. But he still returned home after the evacuation order was lifted. "For a small town, we have to trust them, because what else do we have to do?" Whitining said.
As of February 10, the EPA and Norfolk Southern had received more than 440 requests for indoor air screening from locals.