Naruto has been one of the most popular anime and manga in the world. The tale of the young, titular ninja and his journey has enthralled readers as he's trained, fought and tried to save not just his village but his entire, ninja-centric world. Which makes the episode where he pissed on a girl so fucked up.
Oh, it happened. But when it happened needs a little bit of an explanation. See, at a certain point Naruto's manga creator did a time jump for the characters. Usually, when anime series incorporate these sorts of things, they rename themselves to indicate the difference — so Naruto became Naruto Shippuden just as Dragonball had become Dragonball Z back in the '90s.
Anyways, super-popular anime series based on super-popular manga are always running out of story because while 16 or so pages of the manga comes out every week, the anime TV show has to make a 22-minute episode every week — there are no reruns for these super-popular shows — and thus the show is constantly running out of material, because it's really hard to pad out 16 comic pages into 22 minutes of animation.
The answer? Filler episodes. Episodes that were not based on stories found in the manga, but were by other, inevitably lesser, writers. This is standard practice in Japan, despite the fact that almost all filler episode are invariably terrible. At best, they're usually mediocre, but most of the time they're agonizingly dumb and, since they can't interfere with the real story, never have any lasting impact, but they do have the benefit of lasting weeks or months, giving the manga some time to get ahead.
G/O Media may get a commission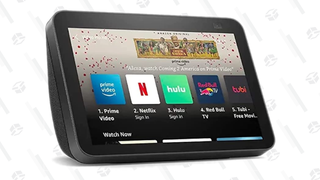 For some unknown reason, the Naruto anime wanted to give the Naruto manga plenty of time to get ahead before the show changed to Shippuden. The result was an unprecedented 77 filler episodes in a row, or well over a year of stories that ranged from the painfully dumb to the unspeakably godawful. And then there was the Worst Episode Ever, #192… "Ino Screams! Chubby Paradise!" The words "Chubby Paradise" should clue you in that you're in for an impressive ride of fat-shaming with a sizable detour into degrading gender stereotypes. But it doesn't even hint at all the urine that's about to rain down.
Frankly, trying to explain the episode is tougher than summarizing it: Basically, the leader of Naruto's village sends the young Ino on a special mission to help Princess Fuku, with Naruto as an assistant. As it turns out, the blonde Ino is a dead-ringer for Princess Fuku, except for the fact that Fuku is fat (cue wacky clarinet music! Seriously). See, she's in an arranged marriage with a Prince Chikara, a guy she's never met, but has already fallen for him, with the result that she stress-eaten her way into morbid obesity.
Prince Chikara is finally coming over, and Princess Fuku wants Ino to pretend to be her to make sure the prince falls for her, because what more could a woman possibly want than to be married by someone else's decree to a guy she's never actually talked to? What woman wouldn't happily use deception to ensnare a man just in order to be married? Ha ha, women only want to be in permanent, socially enforced relationships, and don't really care who with!
Oh, it gets worse. The plot of the episode, such as it is, is that when Prince Chikara shows up he's fat too! He's a brown-haired Elvis type who occasionally speaks English, with a habit of hastily dancing the flamenco. Ino must contain her disgust at the prince — mostly at his weirdness, although she's no fan of his weight — in order to cement the relationship. Ino, despite the fact that this is a ninja mission assigned to her by her boss, despite the fact that she only has to pretend to like this dude for maybe an hour, tops, is so repulsed she has to storm away. She is essentially throwing away her entire ninja career because she can't pretend to like a fat dude for even five minutes.
With Ino out of the picture, Naruto decides to step in. He uses the ancient ninja technique of transformation to turn into the princess himself, and begins slutting it up for the Prince. Yes, a 12-year-old boy disguised as a 12-year-old girl begins undressing for the adult prince, and it's super creepy if you think about it for even a second, but at least Ino runs back in and uses a distraction to toss Naruto out without the prince noticing. At this point, Prince Chikara wants to kiss Ino, and of course she is also too disgusted to contemplate that, either.
And now we get to the delightful urine topping on this shit-pile of an episode. Naruto suddenly needs to pee. So, while still looking exactly like Princess Fuku, he whips his dick out and starts peeing in a bush. The real Princess Fuku, who had stormed out of her hidey-hole incensed that Ino might kiss her man, sees herself peeing (albeit through a penis) and starts chasing Naruto. Naruto runs in terror, even jumping onto the roof of a nearby building, pissing all the while. Despite the fact that her target is literally leaving a trail of hot urine behind him, Fuku climbs up onto the roof too and continues to chase him.
Ino (pretending to be Fuku) and Chikara hear noises on the roof, and open the door where they see this:
Ino is so mesmerized by its beauty she does this:
When of course it's this:
Yes, Naruto has pissed a rainbow into existence, and his companion has basked in the rain of his urine, as revealed when Naruto falls off the roof. Ino and the Princess beat the shit out of Naruto, who has finally stopped urinating; Prince Chikara is confused by the multitude of Fukus.
The real/fat Princess is about to apologize for the deception, but guess what? Fat Prince Chikara finds Fat Princess Fuku sexy! Sexier than Thin Ino, in fact! Chikara is so enraptured he completely disregards the princess' insane deception and the fact that everything around them is covered in urine, and dances a flamenco of happiness. See, fat people are supposed to be with other fat people! Fat people only find other fat people sexy! Fat people are made for each other, so they can romantically overeat together, because that's all fat people enjoy doing anyways! Prince Chikara proposes right then and there to the real Princess, because if a relationship founded on lies and piss isn't worth immediately locking down, what is?
As Ino and Naruto return to their village, Ino is of course boggled that Chikara would choose a fat girl over her thing self. She is devastated that the fat dude she was disgusted by preferred the fat girl who was not repulsed by his touch, because that's not horrible or insane at all. "A man's got to like a slender girl better!" Ino cries, just before she vows to go on a diet.
Apparently, Paradise for the Chubby is also Hell for the Thin. Which probably should go without saying, seeing as they also tend to get pissed on while they're there.