Last night on Supernatural, we gained a new appreciation for all the crap Bobby has to put up with - and how much of a mommy figure he is to all the hunters out in the field.
That's not to say "Weekend at Bobby's" was all "chick flick," as Bobby describes it at one point. We also got to see the old coot being a serious badass too. It was a great tribute to one of Supernatural's coolest supporting characters.
Directed with dark humor by Jensen Ackles, the episode also gave Bobby a theme song. Kenny Rogers' "The Gambler" is poured like mournful cheese over a goofy/depressing montage of Bobby dealing with all kinds of setbacks - from having to break into the library to steal a book, to griping "Balls!" when his car won't start - as he tries to research a monster for the Winchesters. Even though he stays up all night doing research, in between torturing a demon to get crossroads demon Crowley's real name, Dean isn't the least bit grateful. As usual, he's whining about Sam and expecting Bobby to produce instant intel on ganking the monster without so much as a thank you.
The monster-hunting workaholic lifestyle
As we watch Bobby move in claustrophobic circles around his dingy house, spending all his time on his many phones or nose buried in books, we realize that he's actually the tremendously overworked nerve center for hunters all over the country. He's so busy that he doesn't even have time to flirt with his cute neighbor, or even eat the nice peach cobbler she's baked for him. Plus, even though the local sheriff is on his side after he rescued her from zombies, he still has to deal with nosy Feds who want to know why there are monster graves dug in his junkyard.
G/O Media may get a commission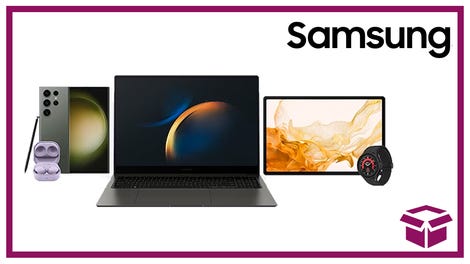 24 hour deals
Discover Samsung - Daily Deal
And why are those graves there, you ask? Because once again a hunter, Rufus, came asking Bobby for help, and he took time out of his already-busy day to dig a damn hole in the damn ground to bury a damn monster which has never been seen outside Japan until that second. Balls!
Yes, the monsters are still acting weird
This is the second or third time this season already that we've heard that the monsters are acting strangely. First Grampa mentioned that he was seeing strange behavior like vamps coming out in the daytime. In this episode, the Winchesters were pursuing a monster that nobody had ever seen outside Greece - and Rufus caught a Japanese monster somewhere in the midwest. So basically, monsters are migrating and changing their cultural norms like crazy. And let's just say that this probably isn't a happy multicultural global identity kind of moment for monsterkind.
How to get your soul back while also playing mommy to a bunch of crazy people
While Dean whines at him, and his neighbor tries to flirt with him, Bobby is right in the middle of torturing a demon. He's found her bones and basically barbecues them until finally she gives him the intel he wants on Crowley - who, if you remember, still possesses Bobby's soul due to some fine print in the contract Bobby signed which states that Crowley only has to make a "best effort" to return Bobby's soul. (And, Crowley cackles, he's made an effort but just couldn't return it!)
Turns out Crowley used to be a Scottish guy back in the 1600s, who had a son and a fondness for slightly peaty Scotch. The demon also reveals that in the wake of Lucifer's demise, Crowley has become the King of Hell. I'm not actually sure what Lucifer's title was, so I'm not sure if Hell has moved from a dictatorship to a monarchy - or whether Crowley is just a figurehead and there's actually a parliamentary system in place down there. Hopefully we'll find out soon. But in the meantime, Bobby has enough information to conjure up Crowley's son as a ghost - as long as he can pilfer Crowley Jr.'s ancient ring from a history museum.
Luckily, Rufus volunteers to do ring pilfering duties. But unluckily, Rufus didn't quite kill his monster, and so when a Fed comes snooping around the junkyard he finds the open grave that the monster busted out of. Bobby heads him off with a lie about exploding septic tanks, but then finds out that Rufus has been arrested on the ring mission.
And then Bobby ruins his chances of getting a date with his neighbor by chasing Rufus' escaped monster through her house and into her wood chipper. Apparently when a guy suggests dinner after hosing a lady with monster blood, it doesn't really go over all that well. Balls.
Meanwhile, Dean keeps calling and whining about Sam, to the point where Bobby finally explodes and yells at the drama queen Winchesters about what selfish brats they are and to just shut up already. Mommy meltdown!
Raising some Hell
Through various favors from the friendly sheriff, Bobby busts Rufus out of jail - see what Bobby does for you? - and gets the ring that Rufus has cleverly hidden by eating it. "I'll just boil some water," Bobby says with a face when Rufus hands it to him triumphantly.
Turns out the ghost of Crowley's son isn't to crazy about dad, and so he spills even more intel. Now the Winchesters can zoom over to Scotland, unbury Crowley's bones, and threaten to set them on fire when Bobby conjures up Crowley again. At last, Crowley gives in to pressure and hands Bobby back his soul. He even preserves the clause in the contract that gave Bobby the use of his legs back. Bobby is whole again.
As if that weren't chick flicky enough, the brothers call from Scotland to tell Bobby how great he is, and to thank him for all he's done for them. Finally, mommy gets some acknowledgment. She gives you everything! Busts you out of jail and even runs your monster through the wood chipper. Awww, Bobby. Even Crowley kind of loves you.
But what's the big takeaway?
Now we know Castiel is running what's left of Heaven, Crowley is raising what's left of Hell, and the monsters are restless. Also, the Campbells are still illegally detaining monsters. And in next episode, Dean is going bloodsuckery on Lisa and Ben. Balls!