Even as Apple, Samsung, and Motorola are pounding out their latest flagship superphones, the OnePlus 2 is easily the most interesting handset hitting the market right now. It's different: An ambitious, powerful phone that won't set you back too much loot.

What Is It?
A smartphone with near-flagship specs at a reasonable price. It's got a 5.5-inch 1080p display. The phone runs OnePlus' Android-based OxygenOS, packs a 1.8 GHz Snapdragon 810 processor, and up to 4GB of RAM and 64 GB of storage. It's got a dual nano-sim slot, in case you want to hop on multiple carriers simultaneously—but in the US, it'll only work properly with AT&T and T-Mobile. The price for the 16GB model will be $330 when it's available. I tested the $390 64GB model.

Why Does It Matter?
G/O Media may get a commission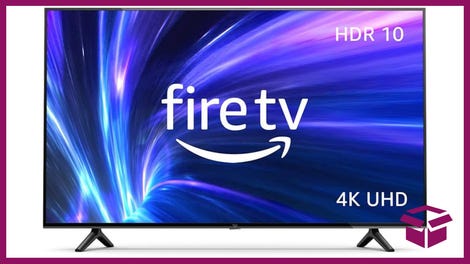 42% Off
Amazon Fire TV 50" 4K Smart TV
Last year's OnePlus One was an earthquake of a phone. A real viable upstart in smartphones is rare for the obvious reason that it costs a ton of money—not mention engineering talent—to develop a smartphone, and even more of both if you want to make a phone that's good. The OnePlus overcame those hurdles with a device that wasn't just good—its cheap price was unstoppable. That last point's especially important because it's increasingly looking like cheap phones are the future.

The OnePlus One wasn't without its drawbacks. The company's manufacturing proved too slow for both its customers and partners, and software upgrades were iffy. OnePlus' key business ally, operating system maker Cyanogen, ditched the manufacturer to look for a more established OEM that could knock out product faster. Now OnePlus is out on its own, with its own, untested operating system. On the other hand, the new phone brings some improved hardware like a fingerprint sensor and top-of-the-line guts. Can it build on last year's qualified success to create a real blockbuster?
Design
The OnePlus 2 is a big phone, roughly identical in size to its predecessor, and also comparable to the LG G4. Okay, maybe it's slightly larger than the other two, and though it's not exactly cumbersome to handle, its boxy design doesn't use any clever shaping that would make it feel like anything smaller than a phone with a 5.5-inch display.

The phone ships with a very similar sandpapery grey-black back as the original. It's the phone's most distinctive design feature. While most people seem to like it, the scratchiness gives me chills like nails on a chalkboard. Luckily, OnePlus will be offering alternate backs for $27, including some very handsome woodgrain finishes. If I bought this phone, I would almost certainly swap the back out for something else. Again, most people find the stock cover attractive, so I'm willing to admit I'm in the minority here. For it's part, the rough texture makes the phone ultra grippy. I'm always, always dropping phones, and I haven't managed to lose this one to the concrete yet.

The OnePlus 2 is the first mainstream phone to adopt USB-C for charging, which is a mixed blessing. Yes, USB-C is the future of superfast charging, but it is precisely the future, which means nobody is going to have a USB-C cable when you need one. This will be very impractical for a while: Forget getting a quick charge from a bartender or at your friends' house. As a consolation, OnePlus is selling the fancy, tangle-free spaghetti cables that ship with the phone for $5 a pop, so at least you'll be able to keep an extra virtually everywhere if you spend a little more.
Since last year, OnePlus has made some common-sense changes to the phone's physical button design and layout. The home button and volume controls are now both on the right side of the phone, whereas previously the volume control was on the left. This isn't just easier and more intuitive, it's also how basically all Android phones work now. Additionally, the thin-line side buttons stick out from the phone's body a little more than before, making them easier to find without fumbling. OnePlus's new metal chasis feels wonderfully substantial, even if it adds thickness and weight. This is not a super-light smartphone.

The phone has two new additions to the button scheme as well. There's a new fingerprint scanner right on the home button, which is now slightly recessed into the body of the phone. The result is a cozy little capacitive-touch nook. The OnePlus 2 also has a switch on the left side that allows you to toggle between "all notifications" and a customizable "priority notifications" setting. I believe this is the first phone to try this. I didn't find myself using it at all, but it's conceivably handy for quickly silencing your phone when you're heading into a meeting, while still letting emergency calls from your relatives through.
The 5.5-inch 1080p display is the same size and resolution as the original, but it's clearer and brighter this time around. Sure, it's not a crazy QHD display like what LG and Samsung are popping into their top phones, but it's still fabulous for watching videos or playing games. The speakers which face out the bottom panel are a little awkwardly placed, though this problem isn't unique to the OnePlus 2.

Using It
Heading into the 2, perhaps the most crucial question is how well OnePlus' new OxygenOS would run compared to the more established CyanogenMod that came with the original phone. The good news is that the upstart's OS preserves all of the functionality of stock Android almost perfectly, while adding some useful little tricks. In particular, I like some of the gestures that work when the phone is asleep: a double tap wakes the phone up; drawing a "V" turns on the flashlight; drawing an "O" turns on the camera; drawing an "||" with both fingers stops and starts your music. (These are, by the way, the same exact same gestures from Cyanogen.)
You can also customize the functionality for different versions of the back, home, and recent buttons. For example, I set the phone so that double tapping the home button takes me back to the last app used.
OxygenOS manages to keep most of the best features of CyanogenMod, though some are not as minutely tweakable. For example, you can turn off the camera widget on the lockscreen in CyanogenMod, but not in OxygenOS. Who cares? That's some insane nerd crap.

That said, OxygenOS adds a crazy power user feature you won't find almost anywhere else: You can set permissions app by app. I suppose if you feel some app is far too intrusive in its required permissions this might be useful. Note that it's probable that you'll end up breaking your app this way.

Speaking of breaking apps, I followed up on a report from this HTC employee that apps with Material Design were breaking in OxygenOS. I was able to replicate his experience in the app Relay for Reddit, but I tested several other third party apps and they all worked fine.

Overall, the performance of the phone is solid, especially for a phone this modestly priced. It works well, and not just because of the software. The hardware is just well-designed. After acclimating to the fingerprint sensor, I get it right basically 100 percent of the time. In a week using the phone, I've gotten blazing fast at securely turning on the device: Double-tap the screen to wake it up, thumb down on the sensor, and I'm ready to go.
Still for all its streamlined simplicity, it feels like there's noticeable lag on the OnePlus 2 compared to the Nexus 6, and even compared to the original OnePlus One—this despite the fact that the OnePlus 2 packs a newer chipset. It's really only a fraction of a second, but you definitely notice that after tapping an app icon, or pushing a button in an app that the system hangs briefly. It's annoying especially if you're used to a zippy flagship smartphone.

This problem was never more noticeable to me then when using the camera. Sometimes, I'd miss shots when the camera loaded too slowly or when the shutter didn't fire immediately. And that's too bad, because this camera's image quality is totally solid. As my colleague Sean noted in his hands-on, the OnePlus' camera software doesn't have any manual controls features or RAW support. But for Instagramming your road trip or taking family photos, the camera's more than decent: it's actually quite good. In low-light it's fine, though definitely not as good as a top phone, but you will get your happy hour photo with your coworkers in a dark bar. It will just look like a drunk bar photo.

Finally, it's worth noting some common features that the OnePlus 2 doesn't have: There's no NFC, which means no mobile payments and no easy tap-and-pair with Bluetooth devices. There's no microSD slot, which means you can't expand the storage. Oh and no wireless charging. These are all fairly niche features right now, but Apple and Samsung are doing their best to make them things we expect are phones to do.
This is a powerful phone, but it does reasonably well on battery: A full charge will get me from morning to dinner under pretty heavy use.

Like
Beautiful design, and overall solid performance. Amazing phone for the money.
No like
Though OxygenOS is a nice streamlined Android concept that tries to stay out of your way, it lags annoyingly at times.

Should I Buy it
Sure. This is a very good phone that'll run you $100 less than its closest competitor, which in this case will likely be the forthcoming Moto X style, which starts at $400 for the model with 16 GB. You have time to decide whether you want to buy this phone or the pricier Moto X Style, because as with the One before it, the OnePlus 2 isn't immediately available—you've got to sign up for an invite.

This underscores something that's worth pointing out: As a concept, the OnePlus 2 is really enticing, but the company still hasn't fully delivered on its promise to make a phone that can kill flagships. It's cheaper, sure, but you pay for that cheapness with performance. And you don't have to beg to buy a flagship Android phone.
Maybe the smartest thing to do is wait for a minute. A simple software update could fix the lag issue, and we'll know within a couple of weeks whether the Moto X Style is worth the extra cash.

If you really can't wait, you'll be well served by the 64GB OnePlus One, which is still available for $300 and no longer requires an invite to purchase. Sure, the spec sheet is a little out of date, but it's still a lot of phone for the money.
Photos by Michael Hession