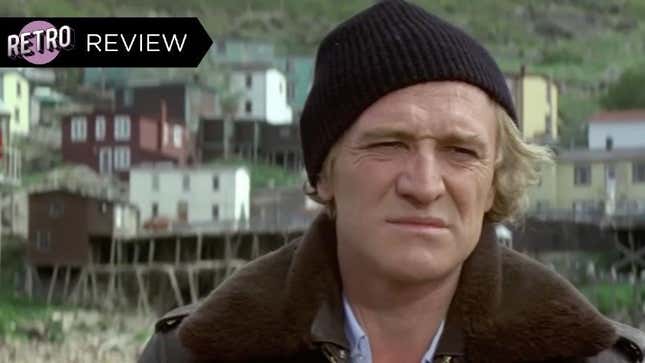 The towering success of 1975's Jaws inspired a fleet of rip-offs, and one of the less terrible ones—1977's Orca—is suddenly feeling very contemporary, what with all the headlines about killer whales gathering en masse and menacing yachts. While Orca emphasizes aquatic drama over science, the mood it captures still feels eerily prescient.

Chris Pratt and Bryce Dallas Howard Nerd Out About Jurassic Park's Returning Heroes
Back in 1977, however, you can absolutely see why audiences felt inundated with déjà vu. Orca takes place in a seaside community whose way of life (fishing, rather than tourism) suffers when a giant marine predator (a killer whale, rather than a shark) appears close to shore, an urgent situation necessitating the expertise of an eccentric sailor (Richard Harris as Nolan, very much in the vein of Robert Shaw's Quint). Orca's opening sequence leans heavily on majestic nature footage of killer whales before addressing its debt to Jaws with admirable boldness, showing us a scuba diver nearly getting devoured by a great white—even the great Ennio Morricone can't resist slipping a little John Williams homage into his Orca score in this moment—until a you-know-what suddenly swims into the frame and rams it out of the way.
In case that bit of stage-setting didn't make it obvious, Orca introduces Rachel, a distractingly good-looking marine biologist played by Charlotte Rampling, to drop 15 tons of exposition. "It is, without challenge, the most powerful animal on the globe," she tells Nolan; Orca then shifts to a lecture hall, where Rachel makes sure we (and her students) understand just how badass killer whales really are. They're fast, they're huge, they have strong family ties, they communicate using their own sophisticated "language," they have well-developed brains and a worrisome amount of teeth, their name means "bringer of death," and, oh yeah: "Like human beings, they have a profound instinct for vengeance." With this new knowledge, we can all agree that Captain Nolan's scheme to capture one and sell it for big bucks to an aquarium is probably the worst idea anyone ever had.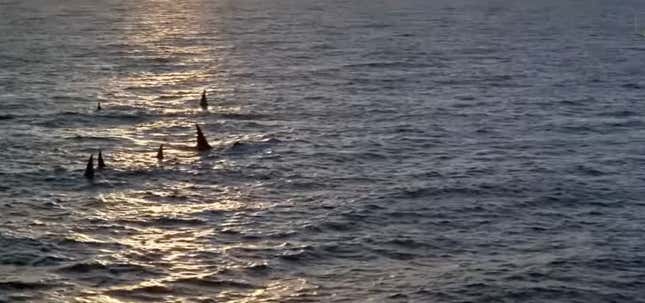 Still, Nolan gives it a go—resulting in an absolutely horrifying sequence in which he and his crew snag a wailing female orca ("She sounds almost human," Nolan marvels), hoist the creature tail-first above his boat, and then recoil as she expels an unborn fetus onto the deck... while her furious mate watches from the waves. As if there was any doubt that this tragedy would trigger that "profound instinct for vengeance," director Michael Anderson (whose other credits include 1976's Logan's Run) zooms in on the male orca's giant eye with Nolan reflected in it, as if it were snapping a photo of the man who slaughtered his entire family for its kill-list scrapbook.

Really, you can't blame Daddy Orca—and nobody in Orca does even after the creature's subsequent campaign of sabotage, which includes scaring away all other fish and potentially devastating the local economy, ramming multiple boats in the harbor, unmooring a stilt house, chomping off the leg of a supporting character played by Bo Derek, and setting off a chain-reaction fire that causes a fuel explosion. Instead, everybody correctly blames Nolan, and the local fishermen imply that if he doesn't take to the sea and handle his problem head-on, he'll have two injured parties seeking revenge against him.
In an unexpected moment of vulnerability, Nolan reveals to Rachel that he lost his own wife and unborn child to a drunk driver, and therefore has a soulful understanding for what the whale's feeling. But he's also fired up enough to stand on the shore and bellow "You want revenge? Well, you'll have it!" in the orca's general direction before setting out with Rachel and a few other brave and/or idiotic souls (including Will Sampson's First Nations character Umilak, inserted to bring a vaguely spiritual perspective to the proceedings) on a Moby Dick-style death cruise into icy waters. It's a slog for survival, peppered with scholarly narration from Rachel, who becomes the only human left standing after the orca finally makes a deserving Nolan pay the ultimate price.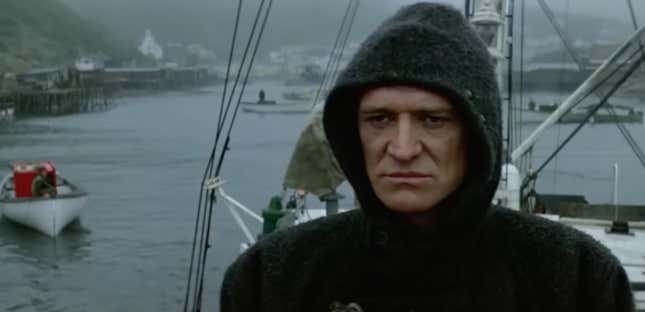 So while the great white goes down in Jaws, the killer whale swims off victorious in Orca. But really, the shark still wins; as a film, Orca is far less entertaining, more ham-fisted, and surprisingly devoid of much tension or suspense. Anderson is no Steven Spielberg and we get way too many shots of orcas (clearly edited into the action from other locations) and frankly way too much information about them for the movie to succeed in frightening us. Imagine if the shark in Jaws, a sleek killing machine which followed no rhyme or reason other than constant hunger, had a clearly defined motive?
That said, the motive dangled in Orca is tempting to consider now that killer whales in the real world have started showing unprecedented aggression toward fancy boats in their midst. What we should be asking ourselves is: did a specific human recently cross them like Nolan did in Orca, or are the whales finally realizing the entire human race, which has been ruining the Earth for centuries now, constitutes orca enemy number one? If it's the latter, our doom is sealed.
---
Want more io9 news? Check out when to expect the latest Marvel, Star Wars, and Star Trek releases, what's next for the DC Universe on film and TV, and everything you need to know about the future of Doctor Who.