Matt and I are winding down Gizmodo's E3 coverage, but Kotaku is still Kotakuizing away. Here are some posts the gamers among you shouldn't miss:
• Tim Schafer Responds To Activision's Brutal Legend Lawsuit
(Tim Schafer, maker of games like Day of the Tentacle and Psychonauts, is God.)
• Nintendo Thinks Conan O'Brien Mario Homage Is "Great"
• MAG Preview: Generic Action Game
• Home Now Supports Photo Sharing
• Impressions of Explosively Cute Critter Crunch
(Kotaku's E3 contest winner makes an appearance.)
• First Image Of Metal Gear Arcade
G/O Media may get a commission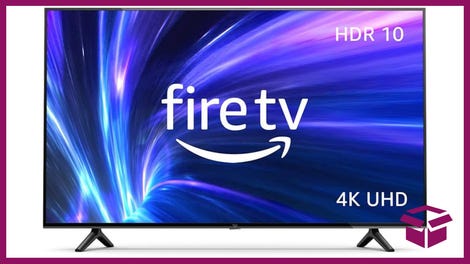 42% Off
Amazon Fire TV 50" 4K Smart TV
• Bioshock 2 Multiplayer Impressions: That Sinking Feeling
• Plus-Sized Fat Princess E3 Trailer
(This game actually looks really fun, like Castle Crashers in 3D)
• Will Team Ninja Take The Slutty Route With Samus?
And our lead pic is from Eyes On With Invizimals: When Pokemon Meets Ghostbusters.