Let's be frank: September was a dog of a month this year. The last month before the holiday season gets going has exactly one thing going for it—nice weather. And at least in the seat of House Gizmodo, it was equal parts sticky and submerged. Not cool, September. Luckily, some great gadgets also came out this month. Here's a list of some of our favorites.
---
In:
Best Sprint Phone
The Galaxy S II we've fawned over has finally arrived on Sprint as the Epic Touch 4G with a bigger, 4.52-inch screen. It absolutely screams. It's faster, brighter, bigger, thinner, lighter and more powerful than any Android phone to date. Long story short: It's the best Android phone you can buy.
G/O Media may get a commission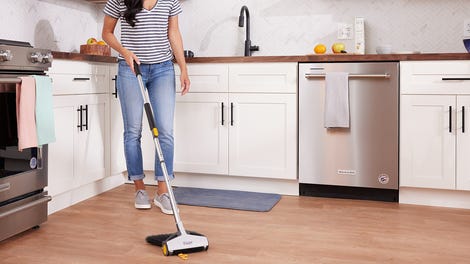 BOGO 50% Off
Flippr - BOGO 50% Off
---
Best Verizon Phone
It's got some problems, like a seriously pixelated screen and lamentable battery life, but the Droid Bionic is the next step in bridging phones and computers-a beastly dual-core transforming thing of a phone that pulls down real internet from the sky. Though with the Nexus Prime, the iPhone 5, and whatever Windows Phone goodness Nokia has coming, this is gonna be a short reign.
---
Best 3DTV
The LG 50PZ950's THX Certified display has amazing picture quality worthy of your Blu-ray collection. If streaming services are more your style, the TV has built-in apps for Netflix, Amazon Instant Video and even a web browser. 3D performance itself could be better, but the whole package is one of the best TVs out there.
---
Best Networked Storage Alternative
Some aspects of the TS-459 Pro II hardware are comparable to the competition, and in other respects, it's just head and shoulders above the rest. A 1.8GHz dual-core Atom powers the TS-459 Pro II, and 1GB of DDR3 RAM comes preinstalled, though you can upgrade to 3GB yourself. QNAP also offers more connectivity options than most mortals will know what to do with, and it's strong on the software side, too.
---
Best Point-and-Shoot Camera
Canon's S95 was our favorite pocket camera. Um, it's probably not anymore. Meet the S100. What's new? Oh, Canon's first Digic V processor. A wider 24mm zoom lens. A 12-megapixel CMOS sensor (up from a 10MP CCD). 1080p video. And GPS built-in.
---
Out:
Best Point-and-Shoot Camera: The Canon S95 dun' been upgraded.
Best Verizon Phone: Verizon's iPhone 4 was a long time coming, but it's also been, well, a long time. Bye, iPhone 4! COMERE, iPhone 5!
Best Sprint Phone: The Nexus S 4G is speedy and has NFC, but the Epic Touch 4G just feels like it's in another class.
*Note, this is not a complete list—just the change log. Our full list of The Greatest Gadgets is right here.