There are more rumors about who'll direct the next Bond movie. James Gunn has big plans for Gamora in Guardians of the Galaxy Vol. 3. Could an old friend be joining Peter Capaldi in his final episode of Doctor Who? Plus, a new look at Once Upon a Time's musical episode, and new King Arthur clips. Spoilers now!

Justice League
Leaked images of some of the film's tie-in lego sets appear to reveal the film's take on Steppenwolf.
Although if I were a betting man, I'd be willing to guess that Steppenwolf won't look like a blocky, Bionicle-esque monstrosity in the final movie, but this is still technically our first look at the villain either way.
G/O Media may get a commission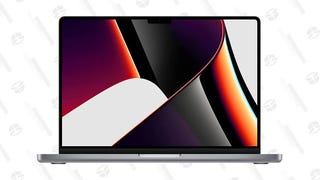 Save $300
2021 14" 1TB MacBook Pro
---
James Bond 25
According to Indie Wire, Paul McGuigan is the latest name to be considered to direct the film.
---
Guardians of the Galaxy Vol. 3
James Gunn says he's had "some pretty intense conversations" with Zoe Saldana, regarding giving Gamora an "enhanced" role in the third Guardians movie. [USA Today]
---
Zoe
Christina Aguilera, Theo James, Rashida Jones, Miranda Otto, and Matthew Gray Gubler have joined Ewan McGregor and Lea Seydoux in the star-studded scifi romance from director Drake Doremus, a movie about to researchers at a futuristic lab who "design technology to improve and perfect romantic relationships." [Coming Soon]
---
The Voyage of Doctor Doolittle
Robert Downey Jr.'s Doctor Doolittle will hit theaters a month early on April 12, 2019, so as to avoid competition with Star Wars: Episode IX. [THR]
---
The Nun
The Conjuring 2 spinoff begins shooting this week, if director Corin Hardy can escape his punishment for mixing plaids.


---
Pirates of the Caribbean: Dead Men Tell No Tales
Salazar flakes all over the cast in the latest IMAX poster from Coming Soon.
---
Valerian and the City of a Thousand Planets
Speaking of posters, meet some of the film's wacky supporting characters in a gauntlet of posters. They're really going all in on that V thing, aren't they? [Coming Soon]
---
The Mummy
Here's a new TV spot for the film.
---
King Arthur: Legend of the Sword
If you want to watch like, roughly 10 minutes of the movie broken down into out-of-context clip form, then do we have the selection of videos for you!


---
Supergirl
Andrew Kreisberg told CBR the main villain of season three will debut in the season two finale, titled,"Nevertheless, She Persisted."
We're so proud of Teri Hatcher, and so amazed she's on our show and killing it as Rhea. There is a feature film quality finale, with huge guest stars, stunts and visual effects. We will get a glimpse of the Season 3 villain in the finale, which we're also excited about.
---
The Flash
Killer Frost's arc may extend into season four, according to producer Andrew Kreisberg in an interview with Entertainment Weekly.
Obviously Danielle Panabaker is not going anywhere. How and if she becomes Caitlin Snow again, or she remains Killer Frost or a version of Killer Frost, into season 4, you're going to have to tune in.
Panabaker also weighed in on the finale.
It's going to be great. Obviously I am involved a little bit more in the finale this time than I have been in years past. From a totally biased perspective, it's great to see a lot more of the familiar faces. Last year, it was Barry vs. Zoom, and obviously this year there's a lot more speedsters, there's a lot more powers, so invariably, I think you're going to get to see a bigger, better battle.
---
Black Lightning
The Black Lightning series is currently looking at a 2018 mid-season premiere, according to The Hollywood Reporter.
---
The Originals
A shocking alliance forms in the synopsis for 4x09, "Queen Death."
When The Hollow sends a terrifying message to Vincent (Yusuf Gatewood), he must team with Haley (Phoebe Tonkin) and Freya (Riley Voelkel) to embark on a desperate mission to stop the Hollow once and for all - even if it requires a heartbreaking sacrifice. Refusing to allow anyone in his family to pay the high price of defeating their enemy, Klaus (Joseph Morgan) makes a surprising alliance and enacts a plan that threatens to change the Mikaelson family forever.
---
Agents of SHIELD
Finally, Ghost Rider returns in the synopsis for Agents of SHIELD's season finale, "World's End."
With the surprising emergence of Ghost Rider, Coulson and the team attempt to stop Aida from ending the world on the exciting season finale of Marvel's Agents of S.H.I.E.L.D.
---
Doctor Who
According to Creators.co, Eddie's Diner has one again been booked for filming by the BBC, suggesting Clara may return in this year's Christmas episode. Bear in mind the series has used the diner before (in the opening episodes of season six, specifically), so it might not necessarily indicate a brief return for Clara—however, it would make sense considering it's Peter Capaldi's swansong episode.
We also have a ton of new photos from this week's episode, "Knock, Knock." There are many, many more at the link. [Doctor Who News]
---
Once Upon a Time

Finally, here's a new clip from the show's upcoming musical episode, featuring Hook singing about his need for revenge.
---
Additional reporting by Gordon Jackson. Banner art by Jim Cooke.