Back in 2012, I saw a sign outside of a travel agency in Western Australia that filled my cold, black heart with glee. It was an ad for Virgin Galactic, with the implied promise that if I stepped inside that door, I could buy a flight to space from an "accredited space agent."
I knew there was no way I could afford it, but just seeing that sign made me feel — however briefly — like I was living in the future. For those of us living here in the second decade of the 21st century, commercial space travel still usually feels like it's light years away.
Last week we looked at the many times that Terrafugia has promised that its flying car was nearly ready for public sale. It seems only fair that we take a look at another company that's promising one of those perennial dreams of the future—and not yet delivering: Virgin Galactic.
Richard Branson has spent over a decade insisting that he's just a few years away from providing regular commercial spaceflights. And we all want so badly to believe that these flights are truly just over the horizon. The company is still happy to take your money in order to hold your spot in line. But Virgin Galactic has quite a few technical and regulatory hurdles to jump over before they can make this particular Jetsonian dream a reality.
G/O Media may get a commission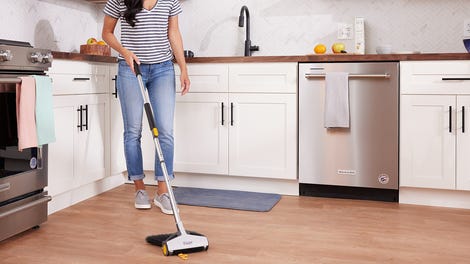 BOGO 50% Off
Flippr - BOGO 50% Off
Below we've collected just a few samples of those commercial space travel promises. We're still rooting for you Richard — but we have to keep our expectations in check, if only because we can't keep getting our hearts broken. Smithsonian magazine took a similar look back in 2013, but it's time to update the list of broken dreams.
1999
"Virgin employees have been researching the feasibility of offering space flights for about $100,000 each, as soon as 2009, [Virgin Atlantic spokesman, Paul] Moore said. He added that market research suggests that as many as 200,000 people — wealthy baby boomers who saw Neil Armstrong walk on the moon 30 years ago — would be willing to pay tens of thousands of dollars to experience space travel." [May 19, 1999 Bloomberg News]
"Richard Branson, ruler of the Virgin empire, is planning a hotel in space and has registered a company, Virgin Galactic Airways, to fly guests into orbit. 'We're looking at various things that could enable people to go to space for a reasonable price,' he told Interneters last week in an online chat. 'I hope in five years a reusable rocket will have been developed which can take up to 10 people at a time to stay at the Virgin Hotel for two weeks.'" [May 24, 1999 Cedar Rapids Gazette]
---
2004
"Airline mogul and adventurer Richard Branson announced plans Monday to boldly go where no private transport company has gone before — into space. Branson's Virgin Group said, it would offer commercial space flights by 2007, with Branson himself joining the inaugural journey." [September 28, 2004 Associated Press]
"Thrill seekers are plunking down six figures to ride rockets that haven't even been built yet, and a new airline called Virgin Galactic promises to be up and soaring in the next three years." [October 7, 2004 Associated Press]
---
2005
"Virgin Galactic officials said 100 people already have paid $200,000 apiece to fly into space. They include actress Victoria Principal, who told the news conference she looked forward to being on the first civilian flight of Virgin Galactic, perhaps as soon as 2008." [December 15, 2005 Associated Press]
"Virgin Galactic plans to op­erate its initial flights from the Mojave base ahead of the projected opening of the New Mexico spaceport in late 2009 or early 2010." [December 14, 2005 Associated Press]
---
2006
"Virgin Galactic, already has 100 people who have paid $200,000 apiece for flights, which the company has said it hopes to begin in 2008." [February 21, 2006 Associated Press]
"The buzz is about Virgin Galactic, the fledgling spaceline founded by British airline mogul Sir Richard Branson. It strategically chooses its clients to be the public face of the company in an effort to draw attention to and, it hopes, corner the infant space tourism market. Take Trevor Beattie, a London-based advertising guru with a trademark mop of curly black hair. Beattie was in Los Angeles at a space conference this spring hyping a flight he expects to take in 2008 — the program still awaits federal approval and the completion of its rocketship." [August 8, 2006 Associated Press]
---
2007
"Branson and some family members will make the first passenger flight, in mid-2009. Regular flights will follow. The plan is to fly once a week for the first year, then twice a week, and eventually twice a day. Over time, Wincer said, Virgin Galactic hopes to drop its ticket price to $50,000." [February 14, 2007 Doylestown Intelligencer]
"Stephen Attenborough, Virgin Galactic's astronaut liaison, reassured the founders in an e-mail that the accident's impact on the first commercial spaceflights — expected in late 2009 or 2010 — will be 'minimal' and that it was 'business as usual.'" [August 27, 2007 Associated Press]
---
2008
"The rollout — a year after a deadly accident at Rutan's test site — marks the start of a rigorous flight test program that space tourism advocates hope will climax with the first suborbital joy rides by the end of the decade. More than 250 wannabe astronauts have paid $200,000 or put down deposits for a chance to float weightless for a mere five minutes." [July 27, 2008 Associated Press]
---
2009
"Gov. Bill Richardson and others are preparing to break ground Friday on construction of a terminal and hangar facility at the world's first commercial spaceport built with the idea of launching private citizens into space for profit. Some 250 people are lining up to pay $200,000 each to take the trip as early as next year." [June 17, 2009 Associated Press]
"Branson hopes to begin passenger flights out of New Mexico sometime in 2011 after a series of rigorous safety tests." [December 8, 2009 Associated Press]
---
2010
"'If the plans of people like Sir Richard Branson of Virgin Galactic are accurate, in the next three to five years there will be very frequent space tourism launches,' said Scott Hubbard, a professor of astronautics and aeronautics at Stanford University." [August 22, 2010 Associated Press]
"Tickets to ride aboard SpaceShipTwo cost $200,000. Some 370 customers have plunked down deposits totaling $50 million, according to Virgin Galactic." [October 11, 2010 Associated Press]
---
2011
"Virgin Galactic, one of billionaire Richard Branson's many companies, has already booked more than 300 suborbital flights. The company hopes to complete its test phase and begin launching flights next year. Its plan for suborbital flights means its ships would go up into space, without completing an orbit of the Earth." [June 3, 2011 Brandon Sun]
"'Governments are not going to be running the future of space travel,' Branson told an audience at Microsoft's Worldwide Partner Conference on Wednesday. 'Private enterprise is.' He's right. Branson's Virgin Galactic plans to begin regular launches into low earth orbit next year. Other companies are looking even beyond the moon." [July 15, 2011 Doylestown Intelligencer]
"'We're very, very close now - with the spaceport finished, with the mother ship finished, with the spaceship finished, with the final tests going on - to starting commercial spaceship travel,' the Virgin boss [Richard Branson] said. Although billed as the official opening, final tests will not be complete until the end of 2012 with flights starting soon after." [October 18, 2011 Telegraph]
---
2012
"With over 500 passengers having thrown down a $20,000 deposit on the $200,000 flight into space, Whitesides says Galactic is 'roughly on track' for a late 2013 commercial launch." [June 16, 2012 Techcrunch]
"During an industry round table at the Albuquerque International Sunport, Mark Butler of Virgin Galactic said New Mexico used to top the list of states for aerospace development because of its Spaceport, where Virgin Galactic hopes to begin commercial spaceflights late next year. But he says the state is falling to the bottom because the Legislature has declined to pass legislation exempting suppliers of parts for air and space from liability for passengers if there is an accident." [October 25, 2012 Santa Fe New Mexican]
---
2013
"Virgin chief Richard Branson has put a time frame on his plan to launch tourists into space, claiming he and his family will blaze a trail for hundreds of fare-paying passengers by blasting off in December 2013." [June 12, 2013 CNN]
"According to Virgin Galactic founder, Richard Branson, the firm is putting the final touches on cabin interiors, flight suits, and training programs, among other key details, and they are on track to begin commercial service out of Spaceport America in 2014. To recapitulate: Tourists will be regularly traveling to space next year." [September 8, 2013 Singularity Hub]
---
2014
"A report claims defects found in the wings of Sir Richard Branson's Virgin Galactic spacecraft will delay the commercial space flight operation until at least 2015 - but reveals that even when the flights do take off, passengers may technically not be taken into outer space anyway." [May 12, 2014 International Business Times]
---
Images: All photos from the Associated Press except for Virgin Galactic Accredited Space Agency poster outside Perth, Australia in 2012 via Matt Novak