Summer vacation isn't here, but summer vacation planning is! And while the beach is nice, nothing beats the sensation of being surrounded by celebrities, special events and fellow fans. So before you buy those plane tickets, make sure you wouldn't prefer one of these destinations instead.
Steampunk Worlds Fair, May 17-19
Location: Piscataway, NJ
Get your gears and your glue gun for the world's largest steampunk event! This year's fair will include musicians, a cabaret, a sideshow, and an appearance by K.W. Jeter, the author who coined the word "steampunk."
Official Site: Steampunk World's Fair
World Horror Convention, June 13-16
Location: New Orleans, LA
This year's WHC is part of the Bram Stoker Awards weekend, which means you're getting a bevy of the planet's best horror writers. But it's also taking place at the Hotel Monteleone, an iconic literary hotel in the French Quarter of New Orleans, which is totally haunted.
G/O Media may get a commission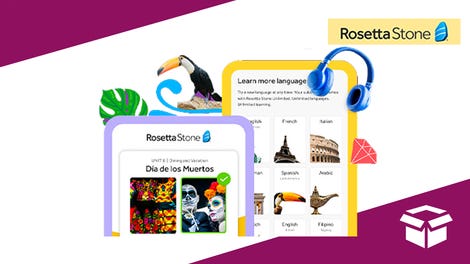 Extra 20% off
Rosetta Stone Lifetime Subscription - All Languages
Official Site: World Horror Convention
Supanova Sydney, June 21-23
Location: Sydney, Australia
Australia's biggest pop culture convention is lousy with celebs, ranging from Eliza Dushku to Alex Kingston to Ray Park to David Hasslehoff. Seriously, the list is insane. And that's not counting events like Cosplay Chess, the Timezone Supanova Pinball Championship, trivia, karaoke, and tons more.
Official Site: Supanova
Botcon, June 27-30
Location: San Diego, CA
This Transformers convention is mainly about the awesome toy exclusives you get for registering. This include a five-figure "Machine Wars" set, which includes classic characters with awesome redesigns.
Official Site: Botcon
Anime Expo, July 4-7
Location: Los Angeles, CA
America's biggest anime con is loaded with English voice actors and Japanese bands (Starmarie and remixer RAM RIDER are already confirmed), along with the biggest masquerade, Anime Music Video contest, art show and more.
Official Site: Anime-Expo
Days of the Dead, July 5-7
Location: Indianapolis, IN
Is the world Horror Convention a little too literary for you? Then try Days of the Dead, which has a horde of horror movie stars, including Angus Scrimm from Phantasm, Keith David from They Live, Gary Busey from the an unknown dimension of gibbering insanity, and a Blair Witch Project reunion!
Official Site: Daysofthedead.net
London Film and Comic Con, July 5-7
Location: London, England
I can tell you about the plethora of Game of Thrones, Doctor Who and Star Trek stars who are attending this con, the DS9 and E.T. reunions its staging, or the all the comics stars. But here's all you need to know: PETER DINKLAGE, TYRION GODDAMNED LANNISTER, IS A GUEST AT THIS CONVENTION. Who wants to put me up for a weekend?
Official Site: London Film and Comic Con
San Diego Comic Con, July 17-21
Location: San Diego Comic Con
SDCC is the biggest pop culture convention in the world, but it's getting a bit too bloated for its own good. Still, if you don't mind waiting in line for several hours, you'll be able to see panels and exclusive footage of movies like Thor 2 and Captain America 2, or you can attempt to buy one of the countless awesome, super-expensive toy exclusives, or check out the exhibits of movies, networks and companies on the show floor. Some people even go to Comic Con to buy comics, apparently.
Official Site: Comic-con.org
Star Wars Celebration Europe, July 26-28
Location: Meese Essen, Germany
Rancho Obi-Wan — a select portion of Steve Sansweet's insane collection of SW memorabilia — comes to Europe, along with Carrie Fisher, every single dude who wore a Boba Fett mask in the movies, and a special tattoo competition.
Official Site: StarWarsCelebration.eu
Bronycon, August 2-4
Location: Baltimore, MD
Here are some of the events at this year's BronyCon, which I swear I am not making up: 1) Who Line Is It Anypony? And 2) Bronypalooza, which will contain 33 different My Little Pony-themed musicians. I… wow.
Official Site: Bronycon.org
Otakon, August 9-11
Location: Baltimore, MD
North America's second largest anime convention feels more fan friendly than Anime Expo, probably because it's fan-run. It's a bit too early for its guests to have been announced, but the con will have concerts, contests, an artist alley, an "Otakurave," workshops, LARPing and even a maid café.
Official Site: Otakon
The Official Star Trek Convention, August 8-11
Location: Las Vegas, NV
I'm not sure why Vegas is should a haven for all things Trek, but this con will have nearly 80 Trek stars in attendance, including everybody from William Shatner to Deep Roy, the guy who played Keenser. And since it's Vegas, there'll be a special Trek-themed dinner party, a Trek Broadway-style musical performance, a Trek cabaret, and more.
Official Site: CreationEnt.com
Wizard World Chicago, August 8-11
Location: Chicago, IL
Did you miss Chicago's other pop culture con, C2E2? Well, this one has Michael "General Zod," Shannon, Norman "Daryl Dixon" Reedus, Michael "Merle Dixon" Rooker, Stan Lee, Wil Wheaton, and Jason "the Green Ranger" David Frank.
Official Site: WizardWorld.com
Comiket, August 10-12
Location: Tokyo, Japan
Getting over to Tokyo is a bit of a trip, but there's nothing quite like Comiket, which attracts over 500,000 manga fans (to compare, SDCC racks up a mere 125,000). They're all there to buy and sell manga, art and doujinshi, those unauthorized but completely tolerated fan comics. And not all of them are porn!
Official Site: Comiket
Gencon, August 15-18
Location: Indianapolis, IN
If you play games — board games, role-playing games, collectible card games and yes, even videogames — Gencon is the biggest game in town, so to speak. Besides playing, buying and learning about new games, Gencon has fantasy authors like Mercedes Lackey, fantasy artists like Brom, but also a 10,000-square-foot dungeon to explore.
Official Site: Gencon
Dragon*Con, August 30-September 2
Location: Atlanta, GA
Dragon*Con may end the summer con season, but while it's last, it's certainly not least. The massive scifi/fantasy convention is less professional than SDCC, but also more fun, with events like a parade, a 200-person RPG gaming session, a burlesque show, a "puppet slam," and that's not even counting the plethora of actors and artists who attend.
Official Site: Dragoncon.org