Part of the fun of buying a new car is that distinctive new car smell you only get from a vehicle fresh off the dealer's lot, but it's also probably a smell you really shouldn't be inhaling. (Womp, womp!) Instead of driving around for weeks with all the windows open to get rid of it, Panasonic's "nanoe X" is a portable air purifier that can be perched in a cup holder to clear a vehicle's interior of unwanted smells.
Years ago, we reached out to Toyota to find out exactly where that new car smell came from, and the answer, unfortunately, was from volatile organic compounds being emitted from plastics and vinyls in the vehicle still off-gassing after manufacturing. As appealing as that smell may be to some people, those compounds are actually air pollutants that should probably be avoided, and a vehicle's own air filtration system isn't enough to quickly eradicate them.
Panasonic promises the USB-powered air purifier designed to sit in most cup holders can clean all the air in a car's cabin in about two hours (expect longer times for larger vehicles) using a fan producing "whisper-level sound" at 36-decibels, which you probably won't hear at all while your vehicle is being driven.
The purifier relies on the company's nanoe X technology, which it's used in other purifying products before. Those namesake 'nanoes' are "nano-sized electrostatic atomized water particles produced by applying a high voltage to water collected from the air and contains hydroxyl radicals (highly reactive components) that easily act on various substances." Not only can they reduce the intensity of odors, they can also help "inhibit viruses, bacteria, mold, and allergens, both air-borne and on surfaces."
G/O Media may get a commission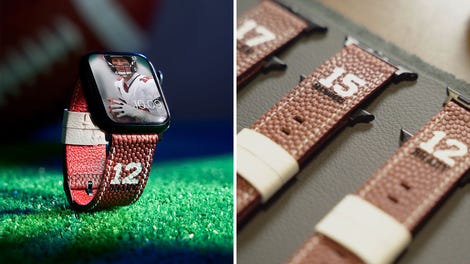 Official NFL PRODUCTS
Official NFL Apple Watch Bands
The technology sounds chock full of questionable buzzwords, but Panasonic says its nanoe X products have been certified by organizations like the California Air Resource Board, the Underwriters Laboratories, and the Electrical Testing Laboratory, so we'll give them the benefit of the doubt until we're able to go hands-on with the device, but pricing and availability aren't known yet.