Ah Paris—city of light, city of love, city of smog? Unusually warm spring weather has trapped diesel car emissions, blanketing much of France in noxious and dangerous air pollution. It's gotten so bad that officials in Paris are taking the radical next step of making public transportation, bike shares, and electric car shares free to use all weekend.
The hope is to keep cars off the road, especially the diesel cars and trucks that make up 60 percent of France's automobiles. Diesel vehicles emit nitrogen oxide, which then becomes the ammonium nitrate of smog particles. This tiny particulate matter gets trapped in the lungs, where it can lead to a whole host of heart and respiratory problems. The European Environment Agency said this is the worst air pollution in Paris since 2007.
(Though Reuters seems to have found one Parisian who doesn't mind. "My lungs are already polluted by cigarettes, so I don't really care," Sophie Boisseau, 29. Not sure that's how it works, but okay, you Europeans.)
The free public transportation scheme is expected to cost the Ile-de-France, the region surrounding Paris, $4 million a day. A few other cities including Reims, Rouen, and Caen are putting in similar policies this weekend, as are parts of Belgium also affected by smog.
This is a temporary solution for Paris right now, but it points in this direction as a longer-term solution for the rest of us, too. If we want to get people to stop driving cars, we have to give them the economic incentives. More bluntly, public transportation needs to get relatively cheaper and driving more expensive. Money talks. [New York Times, The Atlantic Cities]
G/O Media may get a commission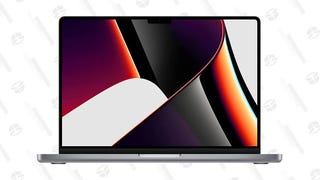 Save $300
2021 14" 1TB MacBook Pro
Image credit: AP Photo/Jacques Brinon