Showrunners David Benioff and D.B. Weiss reveal the schedule for Game of Thrones season four. Check out the latest set video and some casting news for Captain America: The Winter Soldier. Asa Butterfield discusses the zero-gravity sequences in Ender's Game. Arnold Schwarzenegger says Terminator 5 is being written now. Spoilers!
Top image from Ender's Game.
Man of Steel
Here's the latest TV spot.
Antje Traue discusses her character of Faora, Zod's possibly psychotic lieutenant.
Here's an interview with costar Christopher Meloni about his experiences working with Henry Cavill.
---
Captain America: The Winter Soldier
Here's a video from the Cleveland set that shows the Winter Soldier — otherwise known as Sebastian Stan's Bucky Barnes — ripping the door off an SUV.
Robert Redford's senior S.H.I.E.L.D. agent Alexander Pierce — who may or may not be a traitor, based on what Redford has let slip in interviews — will reportedly be joined by a four-person support staff. Acclaimed British actress Jenny Agutter will appear, presumably reprising her small Avengers role as a World Security Council member, and she will joined by Lost's Alan Dale, The Dark Knight and Arrow supporting player Chin Han, and Bernard White, who played Rama-Kandra in the Matrix sequels. There's not much additional information on who they will play, although it's vaguely worth noting that IMDB credits White as "Indian Council Member." [Twitch Film]
---
X-Men: Days of Future Past
At a recent appearance at ComicPalooza, the great, great Patrick Stewart discusses the making and production of the ridiculously star-studded, time travel-centric new X-Men movie:
"My work on the movie is done, except I suppose for ADR and things like that, but I think my time in front of the camera is over. It was 4 1/2 weeks work, and it was very difficult for the production company because there is a large group of leading actors in this movie, many of whom you know and you would have seen before. But a number of us had other commitments, so they were continually having to, as we say, "shoot out" leading actors, that is do all their coverage and then pick up the rest of the work. It was kind of complicated for Anna Paquin, Ian McKellen, Halle Berry, and myself. We all had to be somewhere else at a certain time, which is why the film continues in production without all of us and will do until some time in August I guess... others like Hugh Jackman, for example, of course is there for the duration of shooting.
G/O Media may get a commission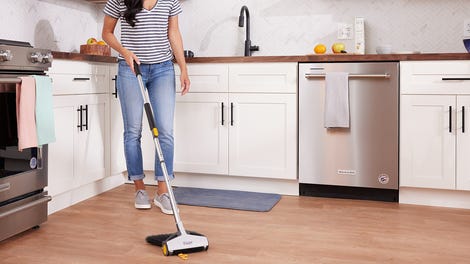 BOGO 50% Off
Flippr - BOGO 50% Off
He also confirms that his death in X-Men: The Last Stand will indeed be addressed:
"It's interesting, its possibly 6 or 7 years since X-Men 3 when you recall Charles Xavier was vaporized by… what's her name, Jean Grey. And you are asking yourself, 'Well if you were vaporized, how can you be in the next X-Men movie?' Anybody got any ideas how that came about? There will be an explanation, but it was a little puzzling to me cause I thought my X-Men days were over, but not so. So something to look forward to, cause there's not much to look forward to these days really."
There's some more at the link, including Stewart's optimistic declaration that this movie will perhaps be "the blockbuster of 2014." [X-Men Films]
---
Pacific Rim
Here's the latest TV spot.
---
Ender's Game
Star Asa Butterfield discusses his experiences shooting the zero-gravity sequences:
It was really good fun. But yeah, wearing harnesses for nine hours, by the end of the day you're glad to get out of them. It's really tiring staying up there. And the chafing… it's exactly as you might imagine. All through rehearsals we would spend an hour each day on the wires. And then we spent a month and a half shooting the scenes. There was plenty of time flying around.

During their training, Ender and his unit take on a lot of other teams in the Battle Room. Any stunts you're particularly proud of pulling off?
There's a really cool sequence where I'm sort of spinning over backwards and I let go of my guns. They're floating by my side just going along. As I push myself through these two stars, I spin back over and grab the guns, then shoot the people around me. I loved doing that.
And here's how he describes his Battle Room outfit:
It's called a flash suit. It looks incredible, but wearing it was pretty uncomfortable, because they were tight and thick and didn't give you all that much movement. It's like wearing three wetsuits and then putting on body armour over that. We had a few versions: a normal one, and then a slightly bigger one which let you wear a harness underneath. You wouldn't want to wear one for more than an hour.
Here's a new photo to accompany the interview. [Empire Online]
---
Catching Fire
Here's a new image of Elizabeth Banks as Effie Trinket; click the link for a little extra in-universe context. [Coming Soon]
---
Interstellar
In news that is almost as unsurprising as the previous announcement that Michael Caine will be in the movie, Hans Zimmer has revealed that he will indeed be scoring Christopher Nolan's space epic. Zimmer previously composed the music for Inception and the Dark Knight trilogy. [Collider]
---
Dawn of the Planet of the Apes
Rise of the Planet of the Apes star Frieda Pinto confirms that neither she nor fellow human costar James Franco will be back for the sequel, even in a cameo capacity:
"The sequel's on, but we're not in it. It's a whole new cast. It would have been great to [do the sequel], but I don't know how they would bring our characters back in. But we'll do something else."
---
World War Z
When asked about the possibility of a sequel, star Brad Pitt reportedly responded, "There's so much in the book, we've got a lot of ideas on where to take it." [@totalfilm]
---
Blade Runner Sequel
Here's the official announcement from Alcon Entertainment that Kings creator and Green Lantern writer Michael Green is working on Hampton Fancher's script for the Ridley Scott-directed sequel:
Writer Michael Green is in negotiations to do a rewrite of Alcon Entertainment's "Blade Runner" sequel penned by Hampton Fancher ("Blade Runner," "The Minus Man," "The Mighty Quinn") and to be directed by Ridley Scott. Fancher's original story/screenplay is set some years after the first film concluded.

Alcon co-founders and co-Chief Executive Officers Broderick Johnson and Andrew Kosove will produce with Bud Yorkin and Cynthia Sikes Yorkin, along with Ridley Scott. Frank Giustra and Tim Gamble, CEO's of Thunderbird Films, will serve as executive producers. Green recently completed rewrites on "Robopocalypse" and Warners Bros.' "Gods and Kings."
The most important news there is probably confirmation that this film will indeed be set a significant amount of time after the first Blade Runner, which would more easily allow Harrison Ford to return to the role of Rick Deckard. [Comic Book Movie]
---
Terminator 5
Returning star Arnold Schwarzenegger says the script is being written now, along with his other two big genre comeback projects, Legend of Conan and Triplets. [The Guardian]
---
World of Warcraft
Producer Charles Roven says Moon and Source Code director Duncan Jones will start filming his adaptation of the role-playing game sometime in early 2014:
"First quarter 2014 we're going to shoot that movie. We're moving forward; obviously Legendary is making that film and I'm having a great time with Duncan."
[/Film]
---
Monsters University
Here's a trio of sneak peek clips. [Coming Soon]
---
Doctor Who
There's some confusion about whether the 50th anniversary special will be 60 minutes long, 90 minutes long, or some other amount of minutes long. I'm sure this is going to shock you, but Steven Moffat offered a cryptic answer when asked about this:
"People keep asking how long the anniversary special is, and it's a fair question. I don't actually know, because the answer is, it's as long as it needs to be. The script is quite long though. I'm looking at it now. Ooh, that's quite long."
In case anyone was wondering, last Saturday's BBC announcement about Matt Smith's departure did confirm that the Doctor will regenerate in the 2013 Christmas special, as opposed to just... I don't know, wander off, I guess? Anyway, just wanted to spell that all out.
---
Game of Thrones
Showrunners David Benioff and D.B. Weiss stopped by KCRW UpClose to offer this update on the status of season four:
"Right now we're writing Season 4. We start shooting July 8, and we have to have all 10 scripts ready before we start shooting, because we crossboard the entire season. So, scenes from the final episode might be shot the first week of production. And then we finish shooting, we go straight [into] post-production, and also outlining the coming season."
---
The Walking Dead
The fourth episode of season four is reportedly called "Indifference" and will feature "a thin, friendly 20-something man and woman." [SpoilerTV]
---
Under the Dome
The ninth episode will reportedly see "Linda and Barbie find out about a powerful drug called Rapture." [SpoilerTV]
---
Once Upon a Time
Costar Colin O'Donoghue discusses the state of Hook's love life:
"It's probably about time he sort of found another love in his life. But if it was a toss-up between [traveling companions] Regina or Emma, I'm not sure exactly who he'd go for. Maybe he'll have fun with Regina, while he's waiting for Emma. Who knows!"
[TV Line]
---
Defiance
Costar Jesse Rath discusses his character, Alak Tarr:
Alak has a very Oedipus-like relationship with his parents, Stahma and Datak. In a perfect world he would probably kill his father and marry his mother. He's against his father's sinister actions and is probably a little frightened by them, but at the same time he wants nothing more than his father's approval and acceptance of who he is.

What do you hope for Alak in terms of character development?
Without spoiling anything, Alak will find himself at somewhat of a crossroads towards the end of the season. I have no idea where the show will take him in the second season but I can barely contain my excitement every time I think about where it may go.
---
Teen Wolf
Here's a short description of the third episode of season three, "Fireflies:
Boyd and Cora are under the influence of the full moon; Scott and Derek seek help from an unlikely ally.
---
Additional reporting by Katharine Trendacosta and Charlie Jane Anders.