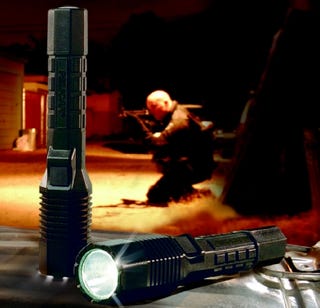 See that badass guy above holding the gun? Well that's no gun—that's a flashlight. Ok, it's really a gun. But the new Pelican 7060 is still hardcore enough to fool you for a moment, and that's all that matters.
Designed for the LAPD, the Pelican 7060 uses 10,000 hour LED bulbs that run for 90 minutes per optional car charge. Plus, the weight is 50% lighter than standard issue police lights (we're guessing due to smaller batteries and lightweight Xenoy resin body). But the feature that we're most excited about:
First-of-its-kind three-way switch technology gives officers a choice to readily switch from patrol to tactical mode in seconds.
Despite having little clue what this means, we still hope to pick one up when the Pelican 7060 is available to the public this June.
Pelican 7060 [Pelican]