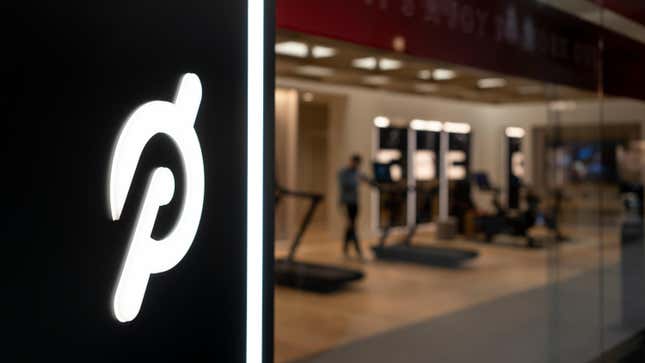 Following nearly two years of downturn exacerbated by a botched treadmill hazard response and rusty bikes, Peloton announced today that it's relaunching its brand in an effort to make more money. The company plans to focus more on fitness content rather than hardware and will roll out "app tiers" with varying plans rather than a one-size-fits-all membership geared toward folks buying equipment.
Peloton Slashes Prices on Bikes, Raises Subscription Fees
In a letter to shareholders, the CEO and president of Peloton, Barry McCarthy, writes:
Later this month we will relaunch our brand in order to better communicate the brand value proposition, and we will re-introduce the Peloton App with a tiered membership structure as a mobile gateway to our amazing fitness content from strength and meditation to outdoor running. Our goal in relaunching the App is to engage new categories of customers, drive top-of-the-funnel awareness for Peloton, and become a meaningful contributor of revenue for our business.
That executive speak says that the Peloton app will be restructured to focus on content within the app rather than content linked to the fitness hardware. There is no information on the new pricing tier yet, but it's easy to imagine that Peloton will offer bundles according to how its users interact with the platform. Peloton notes in the statement that 62% of its active members participate in non-cycling activities, while 38% of all workouts involve "no Peloton hardware of any kind." That could mean that the company is looking at a more affordable subscription price for folks who don't have the bike and want more of the other stuff—the guided meditations, yoga, strength training, and running and walking classes that only require a smartphone and Peloton membership. The current subscription plan starts at $13/month, cheaper than most other on-demand fitness and yoga services. And it's more approachable than a stationary bike starting at $1,500.
The company will still continue to focus on hardware propagation. The Peloton Bike+ and its sibling hardware will continue to be shown off in commercial settings, like hotels, to establish brand awareness and a network of available machines for active Peloton subscribers to stay on track as they travel. The company has also seen some success selling refurbished bikes and promoting its bike leasing program.
I've always thought that Peloton's strength was in its fitness content. Its instructors have become micro-celebrities among the "workout from home" crowd—Cody Rigsby, a millennial favorite, was even on Dancing with the Stars a few seasons ago. It's good to see the company is leaning into what works.