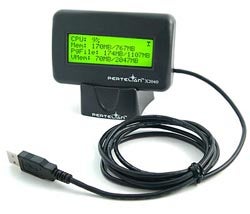 The Pertelian X0240 USB info display is on sale for a limited time for $44! Compare that to the regular price of $70, and you'll jump on this.
To refresh:
There are a ton of different bits of information that the LCD can display such as IM, media controls, RSS feeds, network speeds, POP email checking, stock ticker, weather memos, sports scores, etc. All in all it seems like a handy device with simple setup and convenience.
Very useful if you're one of those who need to keep an eye on your PC at all times. It helps for diagnosing problems and knowing if you're in need of an upgrade. Convenience is now even cheaper.
Pertelian External LCD Display [ThinkGeek]