Peter Jackson offers some insight into The Hobbit's dwarven heartthrobs. Deadpool may have its director, another Spider-man role's up for recasting, and Noomi Rapace talks Alien and Sherlock Holmes. Plus, more on Megamind, Ouija, Transformers 3, Supernatural, SGU, and Smallville.

The Hobbit:
It's official: The Hobbit will film in New Zealand. Woo. [CinemaBlend]
Jackson's next task: making Dwarves sexy. On casting Richard Armitage as Thorin Oakenshield, Jackson says:
"Thorin Oakenshield is a tough, heroic character, and he certainly should give Leggie and Aragorn a run for their money in the heartthrob stakes - despite being four feet tall."
Jackson also says that having 13 Dwarves in the movie will give him greater opportunity to explore the culture and full range of personalities among the Dwarves. [CinemaBlend]
Spider-Man:
The franchise reboot means no more JK Simmons as J. Jonah Jameson. Word is the film's casting director is fishing for a new JJJ, but Simmons' Spider-Man-hating shoes are proving hard to fill. Sad — between this and Law & Order getting canceled, where will I get my JK Simmons fix? Two of the names being considered are Mad Men's John Slattery and The Big Lebowski's Sam Elliot. [/Film]
G/O Media may get a commission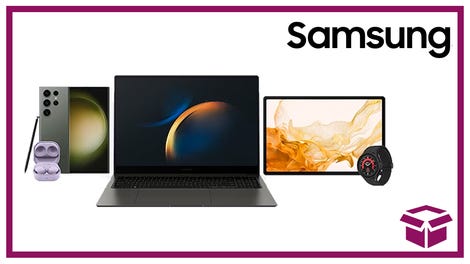 24 hour deals
Discover Samsung - Daily Deal
Alien Prequel:
Noomi Rapace, who's been taking names as Lisbeth Salander in the Girl with the Dragon Tattoo movies, has been rumored as the lead in Ridley Scott's Alien prequel. Rapace would neither confirm nor deny the rumors, but said she'd love to work with Scott. [Moviefone]
Sherlock Holmes 2:
Rapace will, however, appear in the next Sherlock Holmes as a "gypsy" who's "a bit crazy." Rapace says she's trying to make her Romany character as authentic as possible. [Moviefone]
Transformers 3:
Entertainment Tonight visits the set of Transformers 3, where Shia LaBoeuf says this is the best Transformers movie yet. Faint praise, Shia. [Transformers World 2005]
And is this the first Transformers 3 teaser poster? [TFLAMB]
Deadpool:
Swedish director Adam Berg, who made his mark with the cops-versus-clowns Philips Electronics commercial Carousel, is apparently at the top of the list to direct the Merc with a Mouth. [CinemaBlend]
Megamind:
Not sure how much is new in the latest Megamind trailer, but it continues the trailers' trends of revealing big chunks of the plot. [via Wired]
Breaking Dawn:
Summit's latest press release adds these names to the cast: Olga Fonda (Love Hurts), Janelle Froehlich (Hacienda Heights), Masami Kosaka (The Runaways), Sebastiao Lemos (Brazilian TV series Força-Tarefa), Amadou Ly (The Tested, The Bridge), Ty Olsson (X2), Wendell Pierce (Ray, The Wire), and Carolina Virguez (Spanish TV series Matalobos), but doesn't list their characters. Now I can't help but wonder, who will Detective Bunk play? [CinemaBlend]
Ghost Rider 2:
Ghost Rider is facing his greatest foe: his studio budget. Sony has hacked and slashed at the sequel's budget, bringing it from $135 million to $75 million. [/Film]
Spy Kids 4:
Filming has begun on the latest installment in Robert Rodriguez's children's series. Although it will feature the original spy kids Alexa Vega and Daryl Sabara, this movie will focus on another family. The mother, Jessica Alba, is a retired secret agent married to Joel McHale, but she gets called back to fight Jerry Piven as the villainous Timekeeper. Naturally, her kids, played by Rowan Blanchard and Mason Cook, get caught up in the battle. [/Film]
Ouija:
You mean a bunch of directors don't pile into a room and each pretends they're not the one directing the movie? Word is that Sylvain White (The Losers) and Scott Stewart (Legion, Priest) are in the running to direct. [IGN]
Hulk Sequels:
We don't yet know if Marvel and Universal are planning to make any more Hulk movies, but Tim Blake Nelson wants it known that he's under contract for more films, and he'd love to reprise his role as the Leader. [/Film]
Rare Exports:
The full-length horror film has gotten a full trailer. Santa Claus is coming to town...to kill. [ShockTillYouDrop]
Super 8:
JJ Abrams' movie gets a release date: June 10, 2011. [/Film]
Supernatural:
In Friday's episode, "The Truth Hurts," the Winchesters investigate investigate a series of suicides and learn that the victims were driven crazy because someone told them the brutal truth. It all goes back to Veritas, Goddess of Truth, who forces people to be cruelly honest against their will. When Dean gets hit with the proverbial truth ray, he ends up telling Sam his true feelings about his return from Hell. Judging from the pictures, their talk doesn't go well.
Then in "Family Matters," Sam and Dean go hunting with Grandpa Samuel and the other Campbells; Dean's suspicious of Samuel's motives but Sam isn't sold on Dean's suspicions. Naturally, the hunt goes awry.
Fringe:
Olivia's in hot pursuit in the latest set photos. [Spoiler TV]
Stargate Universe:
In this clip for Tuesday's "Trial and Error," Colonel Young and Tamara get personal about Young's possible divorce:
And we've got promo shots from the episode. [Spoiler TV]
The Event:
The extended promo for the seventh episode, "I Know Who You Are," gives us a peak inside the playroom of doom. [via Spoiler TV]
Smallville:
Justin Hartley's wife Lindsay Hartley doesn't show up as the furious Mad Harriet until November 12th, but here's your first look at Mad Harriet and her claws. [E!]
Aquaman will return in the November 19th episode "Patriot Official," and he'll be bringing his wife Mera. Oliver will register for the Vigilante Registration Act to see what the government's response is. As he feared, he is placed in jail and subjected to a battery of tests by Col. Slade (Saul Tigh himself, Michael Hogan). [OSCK]
Chuck:
The episode guest-starring Timothy Dalton will end with a major twist involving Dalton's character and Linda Hamilton's. [Ausiello]
Doctor Who:
The BBC has announced that we'll see a sneak preview of this year's Christmas Special during the annual Children In Need night. [Blogtor Who]
V:
Fans have shot tons of behind-the-scenes footage. Here are a few samples:
You can see the rest at The V Files.
The Simpsons Treehouse of Horror:
A preview of the Halloween show gives us a peak at Daniel Radcliffe's snarky Twilight-skewering one-liners. [CinemaBlend]
Lost Girl:
In the show's seventh episode, Kenzi is running a shaman scam and spiritually "cleanses" a house after a grisly murder-suicide. But she ends up bringing home a Fee spider, whose venom causes people to become psychotic. [Spoiler TV]
Misfits:
The second series of the British superhero dramedy begins November 11th. [Den of Geek]
Vampire Diaries:
Trent Ford, Daniel Gilles, and Lauren Cohan have been cast as centuries-old vamps Trevor, Elijah, and Rose, who have deep ties to Katerina Petrova and will be heavily featured in the November Sweeps episodes "Rose" and "Katerina." [Ausiello]
Terra Nova:
Landon Libroiron (Degrassi), Naomi Scott, and Alana Mansour have joined the time travel series, playing siblings Josh, Maddy, and Zoe Shannon respectively. Josh Shannon will find a father figure in Stephen Lang's character Frank Taylor. Maddy is described as "a bright 15-year-old," and Zoe is the youngest sibling, who is smuggled into the time-traveling portal to the Terra Nova settlement. [Spoiler TV]
Additional reporting by Michael Ann Dobbs.