The Wachowskis' Cloud Atlas movie gains some major stars. New Men In Black III pics feature a pop-art icon. A new Transformers 3 trailer gives a glimpse of John Malkovich. A Total Recall cameo is revealed.
Plus new photos and posters for Green Lantern, Abraham Lincoln Vampire Hunter, Captain America and Real Steel. And find out just how Fringe's new status quo is going to play out. Major spoilers ahead!
The Dark Knight Rises
Reports indicate the film will be shooting at the Farmiloe building on St. John Street, London, from May 16th to May 20th. The site has been the location of the Gotham Central Police Department in both Batman Begins and The Dark Knight. Local businesses in the area have been forewarned that gunfire will be heard during the listed shooting schedule. [IGN]
---
Cloud Atlas
Yes, apparently this adaptation of the David Mitchell novel, directed by the Wachowskis, is going ahead. Ben Whishaw and Hugo Weaving are taking on major roles, and Halle Berry is confirmed in her role. Also in the film: Tom Hanks. Each actor in the film will play multiple roles as the six separate storylines play out. This highly ambitious $100 million project is being shopped around at Cannes, but Warner Bros. is already distributing it domestically. [The Hollywood Reporter]
G/O Media may get a commission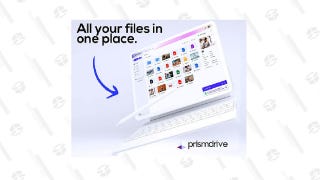 Save 97%
Prism Drive Secure Cloud Storage: Lifetime Subscription
---
Men In Black III
Here are a few new set pictures, including Josh Brolin as the young Agent K, and Bill Hader as Andy Warhol. Also present: a zebra. [Ace Showbiz]
---
Total Recall
Ethan Hawke reportedly has a small role in the film, though the details are being kept secret. The role is being described as a "cameo," however. And there's a new plot description:
The new story ditches the Martian storyline and instead involves nation states Euromerica and New Shanghai, with Douglas Quaid (Farrell) a factory worker in the latter who begins to believe he is a spy, although he doesn't know for which side.
---
Amazing Spider-Man
Legendary stuntman Vic Armstrong, who did some stunt direction on this film, says it'll be way less CG-heavy than the Sam Raimi trilogy. "We've gone back to the basics - more basic flying. You see Spider-Man flying for real, and I think it gives the movie a whole new grounding really. It is more grounded than the others were." More at the link. [Movieline]
---
Transformers: The Dark of the Moon
A new international trailer shows our first glimpses of Patrick Dempsey and John Malkovich. It's also floating around dubbed in French, if you want to pretend that this movie is an existentialist fable.
---
Captain America
Speaking of French people, the new issue of L'Ecran Fantastique has some details on this movie, and they've turned up in English. The movie begins in the present day, with a block of ice located in the hold of a mysterious bomber, with a colorful figure in the ice. The shield is indeed manufactured by Howard Stark, and contains Vibranium — which Stark supposedly invented. (So, no Wakandans?) The Red Skull finds the Cosmic Cube in a church in Normandy, and uses to power some vehicles, including the giant bomber. Bucky and some other soldiers escape from a Hydra prison camp and form the team known as the Invaders. And there's a hint (probably erroneous) that Wasp and Ant-Man will be in The Avengers. [Screen Rant]
And here's a new photo of a Hydra trooper. [The Daily Blam]
---
Pirates of the Caribbean: On Stranger Tides
Here's a featurette focusing on Jack Sparrow and Angelica.
---
Abraham Lincoln, Vampire Hunter
Here's a new behind the scenes photo, which serves doubly as a pictorial history of men's fashion. [ShockTillYouDrop]
---
Green Lantern
Here's a new character poster for the film's secondary villain, Hector Hammond. [Tales of Justice]
---
The Hunger Games
Alexander Ludvig (Escape from Witch Mountain) and Isabelle Fuhrman (Orphan) have been cast as District 2's Cato, and the knife-throwing Clove, respectively. The pair are "Career Tributes" who believe participating in the games is an honor as opposed to a death sentence. With this announcement, casting is now complete for the 24 "tributes" doomed to impale each other on over 5,000 screens across the country. [TV Guide]
---
Piranha 3DD
On last Tuesday's episode of The Best Show on WFMU with Tom Scharpling, actor Paul Scheer called in to divulge some casting details and plot information regarding the new sequel. Among them: David Hasselhoff has joined the cast, playing himself. Scheer and fellow survivor Ving Rhames have teamed-up to become travelling piranha-hunters. The duo appears on the scene the day of the first piranha attacks. Piranhas are attracted to chlorine, and that's why the water park (the film's setting) is under siege by the creatures. David Koechner plays the unscrupulous owner of the water park who refuses to close his business even as the piranhas attack his customers. The film does not take place in the same town as the original, but Christopher Lloyd's character, Mr. Goodman, happens to be on location. Lastly, Scheer suggests the film does not include any flying piranhas, in contrast to 1981's Piranha II: The Spawning.
The interview begins 1:01:13 into the episode and ends at 1:22:33. [WFMU]
---
Real Steel
Here's a promotional flier spotlighting World Robot Boxing combatant Noisy Boy. The back details the rules of robot boxing. [Coming Soon]
---
The Fallen
Depending on which reports you believe, either Breakfast on Pluto director Ruari Robinson or Tron: Legacy's Joseph Kosinski is attached to direct this new film for Lionsgate, budgeted at $35,000,000. Regardless, it's written by Andrew Will, of the upcoming film Archangel, and is "about an alien spaceship that crash lands in Russia. When it creates a 400-mile electronic dead-zone, international special ops teams are sent in to neutralize it." [Coming Soon and IGN]
---
Amityville: The Legacy 3D
Hannibal Classics is gearing up to produce another installment in the Amityville franchise, this time a remake of the fourth film in the franchise, Amityville: The Evil Escapes. The latest film is to be written by screenwriters Steven B. Harris and Andrew Helm, while the cast and director will be announced shortly after the Cannes Film Festival. According to Fangoria:
The story focuses on Nancy and Michael Evans, who move into their new suburban home with their daughter and Nancy's niece and nephew, who were orphaned after their mother committed suicide. Nancy begins hearing strange noises and sensing an evil presence, and as tensions mount among the Evanses, she discovers letters her late sister, who went through the same experience, wrote to a pair of priests. Little does Nancy know at first that they were part of a group who once tried to cast the evil out of the Amityville house…
Amityville: The Legacy 3D is scheduled for completion in October 2012. [Fangoria]
---
Fringe
Producers J.H. Wyman and Jeff Pinkner offer some hints for season four, now that there's a room that exists in both universes:
We're going to be able to have people Over Here that are from Over There, we're going to have people Over There from Over Here. There's a tremendous amount of drama. The worlds are still breaking down. What happened to Peter Bishop is obviously a question. Will he return? How is he going to return? In what capacity is he going to return?
They also hint that we'll be going back to the future, but probably not in every other episode — and it may not be the same future. Certain events, though, may be destined to unfold, like the Trial of Walter, Broyles losing an eye, and whatever the Detroit fiasco was. Tons more at the link. [HitFix]
Seth Gabel has been promoted to series regular for season four, so we'll be seeing a lot more of Lincoln Lee — maybe both of them, even. [TV Line]
---
Doctor Who
Suranne Jones describes her character, Idris, as a "crazy bag lady," and adds that she's the only human in the scrapyard who hasn't had parts of her body replaced. She explains Idris' relationship with the Doctor:
She bites him. I can't tell you where, but not on the bum! I think they get on all right, though. She is intriguing to him for lots of reasons because of things she says and the way that she is acting. When you meet her she is about to die and then she doesn't, she just goes really bonkers instead. She says lots of things that she doesn't understand and she doesn't really know why she is saying them, so she is not quite making sense to herself let alone anyone else.
And she says she'd happily come back, but she doesn't think she can. [WhatsonTV]
Here's a new clip from this Saturday's episode, "The Doctor's Wife," as well as a personal intro from writer Neil Gaiman.
---
Wonder Woman
It's "not looking good" for this series' prospects of appearing on NBC, says Variety. No mention of it getting a Spring 2012 pickup either — although you never know. [Variety]
But if you want a dissenting opinion, here's a report that says NBC has ordered a full series of the show. We'll find out soon enough. [Zap2It]
Geekshow's Scott Carelli saw a screening of the pilot, and Ain't It Cool News has a great summary of his remarks. In a nutshell: it was better than the script might make you believe, but still not even as good as Smallville. A major weak spot: Knight Rider star Justin Bruening is stiff and uninteresting as Steve Trevor, and Elizabeth Hurley is "cheesy" as Diana's arch nemesis Veronica Cale. Wonder Woman tortures and kills men without much compunction, but the good news is she comes across as a warrior. (Sounds like those rewrites we spotted have paid off a bit.) And it's clarified that Diana's home island of Themyscira is like the island on Lost: Once you leave, you can never find your way back. More at the link. [Geekshow via Ain't It Cool News]
---
The Event
Speaking of which... Variety's Stuart Levine tweeted that this show is dead. "Mort. Not coming back. Canceled." [Twitter]
---
V
And while we're on the subject... this show is said to be unlikely to return. It's not 100 percent dead yet, but "most believe it has no chance." [Deadline]
---
Supernatural
The return of Lisa and Ben in the season finale will test Dean's resolve says Ben Edlund:
It's going to [force] him to choose what kind of hero he's going to be. As we always knew, one day or another, he was going to have to make some choices like that.
[TV Line]
---
Smallville
There will be a surprise cameo in the finale. (Maybe Ethan Hawke?) [TV Line]
In the finale, Lois gets into peril, in a scene that recalls the movies. And there's a scene at the barn that will make your spirits "float." [TV Guide]
Here's a production video in which Tom Welling discusses having Michael Rosenbaum on set, and another great promo for the series finale from Canada's Space Network.

Executive producer Kelly Souders had this to say on Michael Rosenbaum's return as Lex Luthor:
We were thinking about Rosenbaum coming back and what Lex, our Lex, what his purpose was. It was always not quite what you expected and much more human and emotional than I think any of us starting out on 'Smallville' would have expected. We really went back to the pilot and thought, 'There's that guy who showed up and was totally personable
and super sympathetic and just wanted to thank a guy for saving his life.' So when we looked at having him back for the finale, it was the same thing, which is, they're going to go on to be huge enemies. So what is it that's pivotal at this moment is, that's our Lex Luthor and our Clark Kent, and how do we wrap up their relationship that has been so complicated and mixed with emotions for ten years?
She also said she still gets choked up when she rewatches certain Jonathan Kent scenes from the finale, even after several viewings. And Executive Producer Brian Peterson said Chloe gets "one big moment with Clark where we get to see her shine." Tons more at the link. [Comic Book Resources]
In another interview, Souders makes it clear Lex was added to the finale at the last minute, and his presence doesn't detract from the Clark-Darkseid showdown. In the run up to the big battle, Lex calls on Clark in a surprising way, and we see a glimpse of the sympathetic Lex we saw in the show's pilot, so long ago. And Oliver is going down a dark path, but his friendship with Clark will wind up saving him, by the sound of things. Also, the first five minutes may feature a flash-forward, while the final five minutes may feature the famous John Williams theme. [TV Guide]
---
Chuck
Executive producer Chris Fedak had this to say regarding the long-gestating season (or series?) finale:
Just because we may've shot something at a church doesn't mean [there's a wedding]. Once you see how our season finale works there should be a degree of doubt. It's structured in such a way that we don't know if Chuck and Sarah are going to get together in the end.
It's beginning to seem more likely the wedding won't go through, because sources are starting to confirm NBC is very close to renewing the series for a fifth season. [ChuckTV and TV Line]