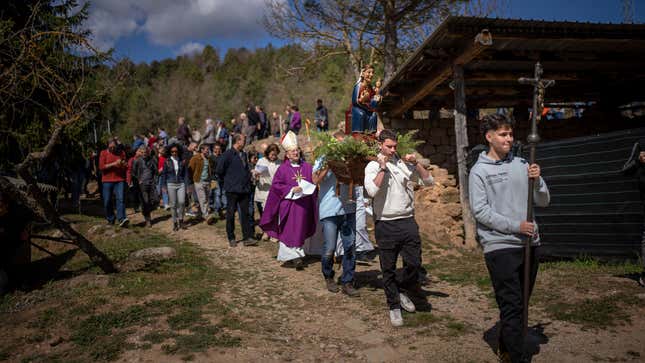 It's so dry in Spain, communities in the Catalan region asking for divine intervention.
Parishioners in the Northeastern mountain village of L'Espunyola held a special mass and procession in honor of Our Lady of the Torrents, a local virgin associated with rain, in late March, the Associated Press reported. Villagers carried a statue representing the Lady on a platform with flowers in veneration. "We have asked with faith, and many people have come and prayed with faith," Bishop Francesc Conesa told the AP. "The Lord will give us what suits us." Many of the parishioners are farmers who are desperate for relief from several years of below average rainfall.
The drought is affecting wildlife, too. In the northeastern city of Girona this week, officials had to rescue fish from the drought-stricken River Onyar, Euronews reported. The fish were transported to another river with deeper waters.
Luis Planas, Spain's agriculture minister, has requested emergency funds from the European Union to support farmers and ranchers amid the extreme drought conditions. Currently, about 27% of Spain is experiencing a drought emergency or drought alert, according to data from the Ecological Transition ministry.
Early last year, low water levels in the Northwestern region of the country revealed a submerged ghost village. The country, alongside many other European nations, saw sky-high temperatures that created a public health crisis. More than 1,000 people died there during a mid-July heat wave.
Click through for photos of the dire drought situation in Spain.