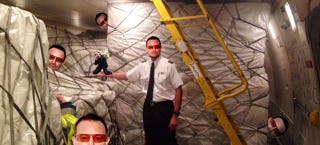 Earlier today, we got a glimpse inside one of the planes carrying hundreds of thousands of shiny new smartphones all the way across the Pacific, straight into our greedy little fingers. But—can we ever really know what's hiding beneath those giant tarps? Yep! Because you're going to tell us.
A giant stack of U2 albums? Grieving clickwheel fans getting ready for sabotage? That, dear readers, is entirely up to you. Your blank slates lie below.
Leave your entries down in Kinja below by the end of the day this coming Thursday, at which point we'll announce our victors. And may the best fake iPhone cargo win.